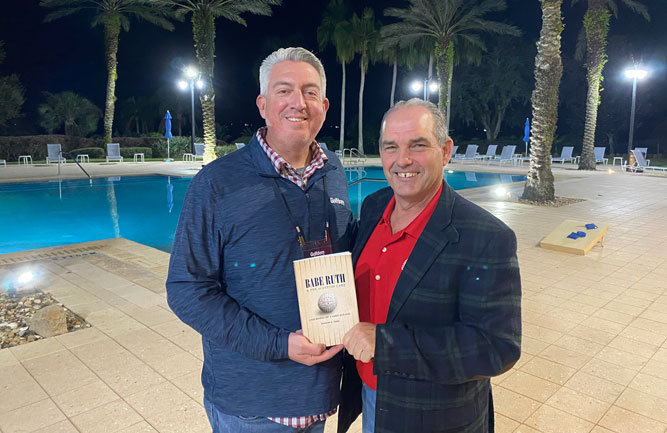 I am writing today from south Texas, in the middle of winter, but it's approaching the mid-80s here. A lot has gone on since the last issue of Golfdom went to press; more than we could cram into our Starter (news) section. I'm going to do my best to round out the rest of the news here, in my first column of 2023, sitting on the back patio next to my father-in-law's hot tub with a cold beer at my side …
Two industry giants passed away in late 2022: Bill Anderson and Bill Kenney. Anderson was the longtime superintendent at Carmel CC, Charlotte, N.C., working there for 40 years until he became the consulting agronomist for the Carolinas Golf Association. He was present at any Carolinas GCSA event one could attend and was beloved by superintendents throughout the area. Kenney was the vice president of Smithco for 40 years. He was a world traveler for the company, and when back home in McKinney, Texas, he and his wife would bring joy to kids as Santa and Mrs. Claus. We were lucky to know both men and the family here at Golfdom tips our cap to Anderson, Kenney and their families. Thank you for your many contributions to this industry, as well as your friendship.
Winter Storm Elliott is certainly worthy of a mention. The 2022 holiday season came with a severe blast of cold weather, high winds and, in some areas, massive amounts of snow and flooding. Sadly, this storm took the lives of more than 50 people. For the golf maintenance world, this brought all kinds of challenges as we saw them shared on social media — chasing down greens covers that were blown away, greens that looked like skating rinks, massive snow drifts and the like. As always, superintendents and their crews will persevere.
The annual Syngenta Business Institute made its return as an in-person event for the first time since 2019. About two dozen superintendents from around the country visited the historic Graylyn Conference Center in Winston-Salem, N.C., for the event. Joining the meeting was our own Group Publisher, Bill Roddy. As someone who "geeks out" on business and financial management, Roddy reports that the event did not disappoint. Taught by professors from Wake Forest University's MBA program, the event steps away from grass growing and instead focuses on business acumen. "Every session was outstanding," Bill told me. "The sessions on managing individuals and teams and on decision making really stood out … as dynamics have changed so drastically since the onset of the pandemic." Stephanie Schwenke, Syngenta's turf market manager, added, "very little industry education is available for managing teams, improving negotiations and thinking about work/life balance … for these reasons, Syngenta is proud to provide superintendents with the opportunity to be successful leaders while mentoring the next generation."
I'd like to point out my 19th Hole Q&A in this issue is with longtime New Jersey superintendent Doug Vogel. (The story of his crappiest day at the course made me laugh out loud.) A self-proclaimed Golfdom historian, Doug is passionate about golf maintenance and its history; he's also a regular reader of our nearly 100 years of online magazine archives. Doug recently published a book, available on Amazon. If you're a baseball fan and interested in golf history, I'd recommend his book, Babe Ruth and the Scottish Game. Doug handed me a signed copy at the recent Golfdom Summit, and I've been enjoying the short stories detailing the Great Bambino's love affair with our great game.
This month's cover story focuses on the GCSAA Conference and Show's eagerly-anticipated return to Orlando. If you're attending the show, I hope you'll come see us at Booth No. 561, right across from Toro. If I'm not at the booth, you'll surely see me roaming the various industry events — grab me and say hello. If we haven't met yet, let's fix that.