Syngenta: Secure fungicide
Get season-long disease protection with Secure fungicide.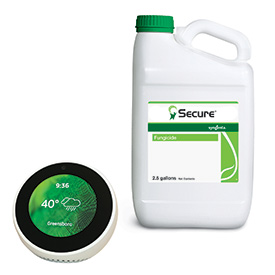 Secure® fungicide is the foundation for season-long protection against dollar spot, including dollar spot that is resistant to other chemistries, as well as 10 additional turf diseases. As a multi-site contact fungicide, it is an effective resistance management tool: it has no known resistance, as well as a very low risk of developing resistance. As part of the 2018 GreenTrust® 365 in-season program, superintendents can make a $2,500 minimum purchase of Secure and earn an Amazon™ Echo Spot™ between April 1-July 31, 2018. For more information, visit GreenCastOnline.com/SeasonalProgram.
©2018 Syngenta. Important: Always read and follow label instructions. Some products may not be registered for sale or use in all states or counties and/or may have state-specific use requirements. Please check with your local extension service to ensure registration and proper use. GreenTrust® and the Syngenta logo are trademarks of a Syngenta Group Company. Secure® is a trademark of Ishihara Sangyo Kaisha, LTD. Amazon, Echo, Alexa, and all related logos are trademarks of Amazon.com, Inc. or its affiliates. Amazon and Echo Spot are not affiliated with and are not sponsors of this Program. All other trademarks used herein are the property of their respective company.