Syngenta: Avid + Heritage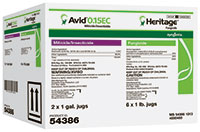 As a hidden pest that can be difficult to detect, nematodes damage turf roots, which also increases disease risk. Syngenta offers Avid miticide/insecticide to control sting and ring nematodes through systemic and contact activity with a low use rate. Avid is the only abamectin formulation approved for nematode control on greens through a FIFRA Section 24(c) registration.
Avid mixes easily with Heritage fungicide to manage nematodes and diseases as part of a comprehensive control program. Research shows tank-mixing Avid and Heritage provides superior turf quality and stronger roots compared to applications of either product on its own, according to Syngenta.