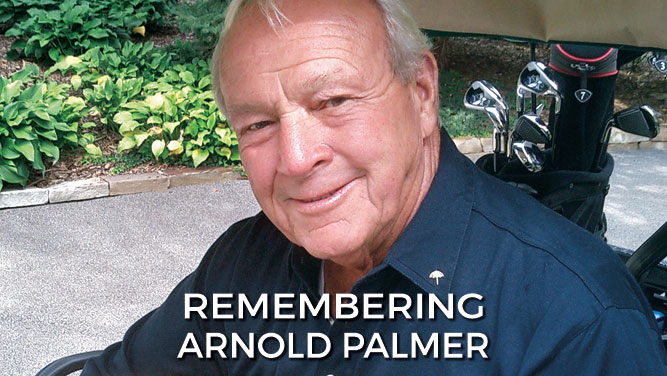 To honor the loss of one of the industry's greatest icons, members of the Golfdom team share their memories of the King.
First up, Editor-in-Chief Seth Jones shares the story of his first meeting with Arnie, where, in his office at Bay Hill, Jones ended up crashing an interview he was having with Associated Press golf writer, Doug Ferguson.
The next story comes from Joel Jackson. In his story, he talks about meeting Arnold Palmer during a practice round at the Masters in the early 1980s. From there he ended up trading a job with Disney to working with Palmer at Isleworth Country Club, which was one of a dozen courses in Florida experimenting with bentgrass greens at the time.
This time it's Karl Danneberger and his memories of the King. In 1974, Danneberger and his friends were down in Florida for spring break. Then a unplanned detour to Orlando, specifically the Florida Citrus Open, led him to see firsthand what kind of atmosphere Arnie created when he was playing.
The next Palmer story comes from Steven Wright. Wright had quite a few meetings with the King, from a simple autograph to working with him on designing an 18-hole course. He was also in contention for another job with Palmer, which, ironically, was given to a fellow Golfdom columnist.
And our final story comes from Mark Woodward. Here, Woodward explains his buffet line conversation with Palmer and Palmer's closing remark that has stuck with him since 2006.
Photos: Golfdom