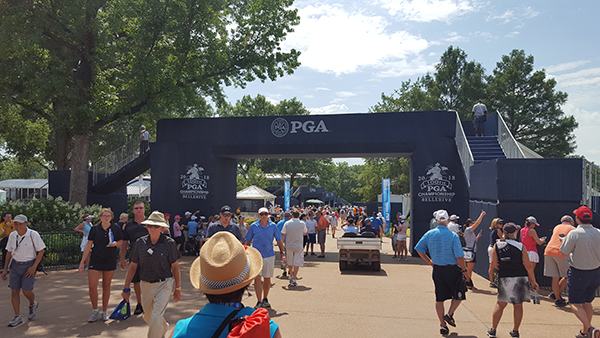 News from the course
Green means go: Erb Equipment on call for PGA Championship
Should any equipment break down at Bellerive CC, St. Louis or if there is a part needed that's not already on-hand, it'll be Bruce Kapp's phone that rings. Learn more about the John Deere turf products distributor supplying the equipment to Bellerive CC. READ MORE.
More player reactions from Wednesday morning at Bellerive CC Wednesday morning we got a chance to talk to Adam Scott, Dustin Johnson, Jim Furyk and Zach Johnson as they came off the course. After Tuesday's rain storms we wanted to see if the course was playing any different. READ MORE.
Players talk Bellerive conditions Tuesday afternoon we got the chance to (finally) talk to some of the players about how they felt about the way Bellerive was playing… and yes, we also asked them about the condition of the greens. READ MORE.
Jones: Everyone has an opinion when it comes to greens
Following Golf Digest's article that sent shock waves through the industry, Seth Jones shares his perspective on course conditions at Bellerive CC. READ MORE.
Arraya to volunteers: It's exciting, energizing and historic… but it's just grass
Almost 90 volunteers from around the country and around the world filled the maintenance hospitality tent on Sunday to hear from the man leading the maintenance efforts here at Bellerive CC in St. Louis. Read on a for a few of the highlights. READ MORE.
More than turf: Making connections at Bellerive Talk to some of the volunteers from Bellerive last week and it'll be no surprise that one of the main reasons they ventured to Missouri was for the networking. READ MORE. 
To honor their friend, three friends make the trip of a lifetime Isaih Arraya, the late son of Carlos Arraya, is only at the PGA Championship in spirit, but his three best friends are here in person to honor him and to support his father. READ MORE.
Enter our PGA Championship giveaway before Thursday's first tee time
We're kicking off PGA Championship week with a contest to give away this John Deere-themed Grizzly cooler. Find out how you can put your name in the running.
Videos
Supporting the team at Bellerive
Ren Wilkes, tactical marketing manager for John Deere Golf, shares with us how John Deere, and its local dealer Erb Equipment, pitched in to help Carlos Arraya and his crew prepare for the PGA Championship.
Talking Bellerive course design with Rees Jones
Who better to talk about Bellerive design and layout than Rees Jones? No one. Check out our interview with the famed architect (who also has strong family ties to this historic course) about some of the finer points of the layout, design and construction.
Breaking down the design of Bellerive CC
Rees Jones Golf Course Design Senior Designer Bryce Swanson offers a closer look at the design of Bellerive Country Club, including how it has been made to accommodate professional players and its membership.
Equipment support for the 100th PGA Championship
This week at Bellerive Country Club viewers will notice a sea of green — beautiful greens, sharp greens and, oh yeah, a fleet of familiar green mowers with yellow accents.
PGA Championship volunteer stories
Volunteers came in from all around the world to help out Carlos Arraya and his crew for the 100th PGA Championship. We talked to a few to get their stories.
Photo Parades
Photo Parade: Equipment edition. Check out the crew hard at work preparing for the PGA Championship. VIEW THE PHOTOS
Photo Parade: Faces of the 2018 PGA Championship Hot weather and torrential downpours can't lessen the crews' excitement this week. Check out our photo roundup to see what the crew has been up to these first few days. VIEW THE PHOTOS
In the magazine
2018 PGA Championship preview: A superintendent for the people Learn more about the man leading the charge, Carlos Arraya, CGCS, his crew and what happened at the course to get it ready for the PGA Championship. READ MORE.