Invisible intruders
In the summer of 2015, Mark Newton, CGCS at Canyon Farms Golf Club in Lenexa, Kan., was worried he might lose his job.
He and his two assistant superintendents were spot-watering greens up to five times a day. His greens turned purple any time the temperature went above 75 degrees F. The greens had poor uptake of nutrients and didn't respond to nitrogen. While they didn't lose grass, the greens were difficult to maintain. Members started to notice — and complain — that the staff was watering too often.
"Normally on an 80-degree day, we'd literally have to hand water in the morning, go back out again at noon, back out again at 2 p.m. and sometimes again at 4 p.m.," Newton says. "Hand water, hand water, hand water. It was a pain.
"We'd probe them, and instead of them being rock-hard like you would see in isolated dry spots, it would be like butter — like there was nothing in the ground," Newton recalls. "We have a lot of organic matter, so we attributed it to that."
After they started cutting cups on the back of No. 9 green — a pin position they hadn't used in a while — they noticed the problem spreading to that area. Newton sent soil samples to the University of Missouri and the University of Florida. What came back was something they never could have seen with the naked eye — a sting nematode population 10 times above the normal threshold.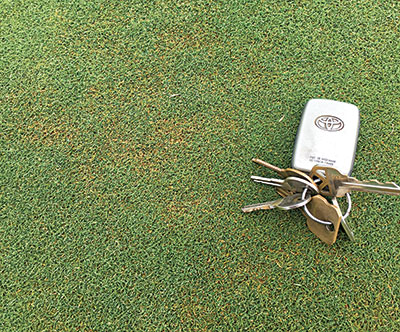 "It was eye-opening for me," Newton says. "I'd never been at a course where nematodes were an issue."
Canyon Farms was the first course in Kansas City to try Indemnify on its greens. Newton describes it as a "night-and-day difference."
After applying a nematicide, he and his crew could water in the morning and "everything holds." He saved $18,000 in labor on hand watering in 2017. And the greens are excellent.
"Nematicides aren't cheap by any means," Newton says. "But we're doing applications again this year. It's a no-brainer."
A history of nematodes
Superintendents have battled nematodes for years. The battle was considerably easier with chemical controls. With the removal of Nemacur (fenamiphos, Bayer) from the market several years ago, superintendents searched to find an effective, consistent and affordable chemical control product.
When trying to control nematodes, it's vital to know which species of nematodes are present and the number of each species present. Proper sampling is the only way to answer these questions. "Sampling Instructions for Nematode Assay," by T. Mekete and W. Crow, provides step-by-step instructions to collect and submit a sample for nematode analysis.
When sampling, keep in mind that nematode populations fluctuate dramatically during the growing season and are not distributed uniformly across a putting green. You must sample during periods of active root growth and take multiple soil core samples from the area of declining turf. You may have to sample several times during the growing season to get a good understanding of the problem.
A nematode assay provides important information on the nematode species present, but nematodes-present results are difficult to interpret. While published damage-threshold numbers for many nematode species are helpful, don't interpret nematode counts as black or white when considering treatment options. Assess the turf's condition and talk to colleagues and university and industry experts before deciding whether to apply a nematicide.
In the last two years, three new nematicides — Divanem (abamectin, Syngenta), Indemnify (fluopyram, Bayer) and Nimitz (fluensulfone, Quali-Pro) — have been introduced into the turf market. With a year or two of experience with these products, we talked to experts at each company to learn more about them.
Syngenta's Divanem
"Divanem has been well received by superintendents, and it was no surprise since superintendents asked for the product in the first place," says Lane Tredway, Ph.D., Syngenta technical services manager and turfgrass pathologist. Tredway explained that Billy Crow, Ph.D., nematologist at the University of Florida, worked with Avid (abamectin, Syngenta), which at the time was labeled for insect control in ornamentals on turf, and found it provided effective nematode control. Once superintendents saw the results of Crow's research, they asked Syngenta to make abamectin available for turf. Syngenta responded by making Divanem, which is abamectin formulated specially for turf use. Divanem is a restricted-use pesticide.
"With today's new nematicides, it pays to be proactive," Tredway advises, suggesting superintendents sample regularly and apply Divanem while there is active root growth and before the turf declines.
Superintendents can use Divanem as a rescue treatment, but it requires multiple applications and requires favorable weather conditions and cultural practices to stimulate turf recovery.
"The most successful use of Divanem is as part of a preventive program that includes multiple applications of nematicides with different modes of action," Tredway says. "Think of a strategy similar to controlling fungal diseases season-long and with multiple active ingredients. Applications are especially important during times of active root growth, which is when nematodes are most active." Find examples of season-long programs using Divanem at GreenCastOnline.com/Programs.
Tredway also encourages superintendents to consider applying Heritage (azoxystrobin, Syngenta) or Velista (penthiopyrad, Syngenta) fungicides in a tank mix with Divanem plus a soil surfactant to control root diseases. This, along with controlling nematodes, improves turf performance. Because all the products need to be watered in for maximum effectiveness, the tank mix makes sense, Tredway says.
Always leave an untreated area for comparison when treating with Divanem. "Nematode populations fluctuate widely during the growing season, so relying on nematode counts to gauge success can be misleading," Tredway stresses. Nematodes numbers fluctuate because of weather and root growth. The more roots present, the more nematodes present. Tredway advises focusing on root growth and turf performance rather than focusing on nematode counts, and having an untreated area for comparison makes it easy to judge the
effectiveness of Divanem (Figure 1).
Divanem has broad-spectrum activity on root-feeding nematodes and controls sting, lance and root knot nematodes, the most common nematodes in turf. In addition to applying Divanem during periods of active root growth, Tredway recommends tank mixing Divanem with a soil surfactant and watering in 0.1 inches immediately after application, with 0.25 inches of water within 12 hours after application. Applying Divanem after aeration, while aeration-created channels are still open, helps move Divanem into the soil.
When used according to the label, Divanem has a low impact on the environment. It is tightly bound to soil and organic matter so has a low risk of leaching but underscores the need to water in Divanem before it dries to get it effectively into the root zone.
Bayer's Indemnify
"Superintendents using Indemnify have loved it. Indemnify has improved turf quality on golf courses across the country," says Zac Reicher, Ph.D., technical specialist with Bayer Environmental Science. Indemnify is effective on a broad range of nematodes, including soil-borne nematodes like root knot, sting and cyst, as well as the stem and gall nematode,
Anguina pacificae.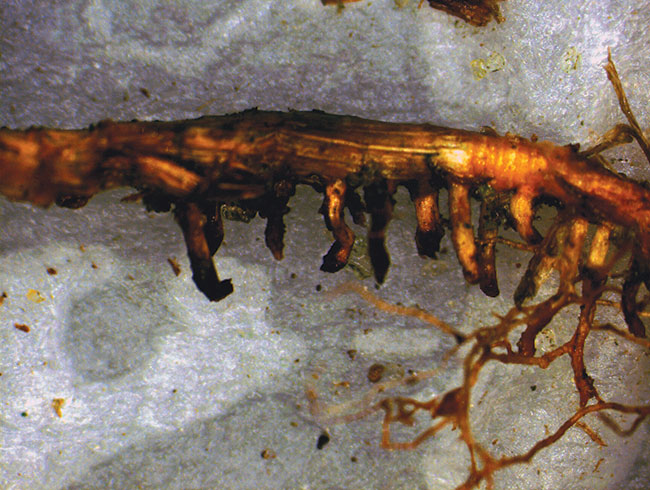 According to Reicher, the most effective way to use Indemnify on courses with a history of nematodes is preventively. He urges superintendents to apply Indemnify before turf decline is obvious, and schedule applications based on the course's history of nematode-caused turf damage. On courses diagnosing nematode problems for the first time, curative applications of Indemnify are effective, but recovery will be slower because damage is most common when the turf is under stress and/or growing slowly. Once nematodes have been identified they're likely to remain a problem. Preventive applications are necessary to maintain the highest quality turf.
"The time it takes for the turf to recover after an application of Indemnify varies and is based on root growth and the number of nematodes present at application," explains Reicher. "In some cases if Poa annua is actively growing and Indemnify is applied to control Anguina pacificae, superintendents may see a positive turf response in a few days. On bermudagrass greens, a positive turf response may take two to three weeks depending on how fast the turf is growing."
"Nematicides, including Indemnify, are not silver bullets," Reicher emphasizes, "and must be used as part of a well-conceived and properly executed year-round management plan to promote healthy turf. Budget, management approach and expectations all play a role in deciding whether or not to apply a nematicide to a green or greens. Each golf course is unique, and when applying Indemnify for the first time it may make sense to treat only the problem greens to learn about the product, the turf response and the economics."
Good results using Indemnify have come from two preventive applications at 17.1 oz. per acre made four weeks apart, with the applications made in spring during active root growth (Figure 2). On courses suffering from high levels of nematode damage, Reicher adds, superintendents may make four applications of Indemnify at 17.1 oz. per acre per year. Find more information on Indemnify at BackedbyBayer.com/golf-course-management/talking-turf.
To receive the best performance from Indemnify, Reicher recommends watering it in with 0.1 inches within 24 hours after application. No surfactant is needed in a tank mix with Indemnify, and it's not necessary to aerate prior to application. He also recommends applying Indemnify with no major thunderstorms in the two-day forecast. This prevents Indemnify from being washed through a sand root zone. Reicher says there have been no reports of turf phytotoxicity following an Indemnify application.
He also says superintendents should reach out to their area Bayer sales managers before making a final decision about Indemnify. "The decision to use Indemnify should be made on a case-by-case basis and not (made) in a bubble," he says.
Quali-Pro's Nimitz Pro G
"Superintendents have had a positive reaction to Nimitz Pro G. There was excitement about the launch of Nimitz and that has continued with repeat orders in the second year of availability of the product," says Marie Knox, nematologist and director of product development for Control Solutions, Inc. Nimitz Pro G is extremely effective on lance, root knot and sting nematodes.
Knox cautions that nematode management and control is not as simple as treating an aboveground pest. She explains that nematodes live in an "unseen world." Populations fluctuate throughout the growing season and counts aren't as reliable as anyone would like.
"Monitoring turf response, focusing on damaged areas that fill in, increased root growth and overall improved turf vigor," is key to determining the effectiveness of a Nimitz Pro G application program, she says. "In general, it takes two to four weeks after making the first Nimitz Pro G application before the turf starts to show signs of recovery. The turf needs time to respond before signs of recovery are seen." Find more information on the use of Nimitz at Nimitzpro.com.
The general recommendation for applying Nimitz Pro G is to make three to four applications at 60 lbs. to 80 lbs. product per acre, with each application one month apart. A complete Nimitz Pro G program totals 240 lbs. per acre applied over a three- to four-month period. Superintendents see the best results when turf is actively growing and soil temperature at a 2-inch depth is at least 55 degrees F. Creeping bentgrass may be sensitive to Nimitz Pro G, so don't apply more than 60 lbs. of product per acre. Spreader calibration is important for applying the proper amount.
For Nimitz Pro G to be most effective, Knox recommends applying it to actively growing turf, not overlapping (small gaps between spreader passes will not affect efficacy and are preferred to overlap) and watering in with 0.25 inches of water. Begin watering immediately after application with 0.1 inch. You may apply the remaining 0.15 inches in two to three cycles over the next two hours. Knox says aeration prior to Nimitz Pro G application is not necessary but can help move Nimitz Pro G into the root zone.
Nimitz has no effect on honey bees, and there is no reentry interval restriction. Knox adds that Nimitz has no negative impact on fungi, bacteria and beneficial soil micro fauna, so superintendents may use it in programs that apply beneficial biological organisms.
Introduction by Seth Jones
Photos by: Mark newton (1,2), Syngenta (3), Bruce Martin, Ph.d. (4, 5), Derek Settle, Ph.D. (6)