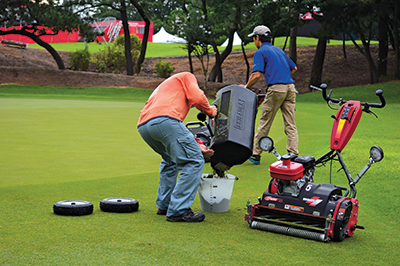 This is part 2 of Golfdom columnist Joe Gulotti's trip to Moncton, New Brunswick to attend the Atlantic Turfgrass Conference & Trade Show. To read part 1, and learn about Minimum Levels of Sustainable Nutrition from Micah Woods, Ph.D., and Jason Haines, superintendent of British Columbia's Pender Harbor Golf Club, click here.
#ClipVol
"Greenkeeping is managing the growth rate of the grass to create the desired playing surface for the game of golf." – Micah Woods
I never realized the importance of growth rate until Micah Woods, Jason Haines and Chris Tritabaugh made it a valid point. When you break it down, everything we do as greenkeepers is related to this statistic, and most of our decisions truly are influenced by how fast or slow the grass is growing. Our trade hasn't until now placed a value on this number.
It's easy to measure soil moisture content in greens, and it's just as simple to measure growth. All you need is an extra minute per green to dump the baskets from a mower into a bucket marked in either liters or quarts. Once you measure this value, it's simple to determine growth rate. For example, if the green mowed is 5,000 square feet and you collect 5 quarts of clippings, the growth rate on this green is one quart of growth per 1,000 square feet.
However, determining the ideal growth rate is truly site specific. If you're fortunate enough to keep greens on a course with unlimited resources, you may want a slower growth rate, or as Woods likes to say, "a growth rate on the cliff's edge." For greenkeepers managing, for example, Poa/bent greens in the Mid-Atlantic with an average-sized budget, your growth rate probably needs to be a little further away from the edge of that cliff. If you cannot determine your "cliff's edge," are you truly managing your property in an optimal way?
Measuring clipping volume determines not just the edge of that cliff, but an assortment of other factors that get us into the Jason Haines mindset of eliminating the guesswork. Because Haines introduced this practice, he can determine the ideal growth rates to combat diseases like microdochium and dollar spot, which is truly groundbreaking.
We all play host to important events every season. Whether it's an invitational, a club championship or a U.S. Open, we are trying to produce the best surfaces possible.
I assume for these events we want the grass to grow as slowly as possible, but how do we know what a "slow" growth rate is if we're not measuring clipping volume? By knowing this stat, we can hone in those surfaces. If the grass is growing too much, simply increase mowing along with your regulator applications. If the grass is growing at a snail's pace, we can mow less, stop using regulators and maybe give it a shot of nitrogen.
The cool thing: Every time that big event is about to go down, you can look back at the data from the previous year and determine the ideal growth rate, ensuring that even the most critical golfer at your property isn't going to shred you to pieces in the 19th hole. If anything, that jerk will have no other choice but to sing your praises because the greens are pure. I prefer compliments to criticisms, so measuring clipping volume seems like a logical practice to implement.
"I think we can revolutionize the way greens are maintained," Woods said to the hushed greenkeepers in attendance at the Atlantic Turfgrass Conference and Trade Show, "because we can fine tune the nutrient supply on what's actually being harvested. It will reduce the amount of guessing, which leads to more efficient work and improved turf conditions."
"We can also look at mowing," he continued. "If we can mow less and get the same conditions, it's good environmentally. Our mowers will last longer, we will spend less on fuel, and let's not forget how damaging mowing is to the grass."
What I find incredibly awesome about this deal is the idea of never having to core aerify. If I can control the growth rate to the point where the putting surfaces under my care do not beget a significant amount of organic matter, there is, in theory, no justified reason to annihilate greens two times a year.
"It's so awesome to think you can have high-quality putting surfaces and just present that to the members day after day without the disruption of core aerating… it's cool," said Woods.
Going Home
With my belly full of its fair share of cheese curds, potatoes, gravy and beer, I not only was stuffed physically, I also was gorged mentally. What Micah Woods, Jason Haines and Chris Tritabaugh are contributing to our industry is truly remarkable. And what's even more awesome is they're not the sole contributors. Also lending their expertise are Doug Soldat, Bill Kreuser, Frank Rossi, Rich Buckley, Andrew McDaniel, Paul MacCormack, Mark McGreevy, John Jacob, Leasha Schwab, Moe Robinson, Matt Gourlay, Rick Slattery, Andrew Wilson, Eric Johnson, Bjarni Hannesson, Larry Stowell, Wendy Gelernter and Ben McGraw. I'm sure I'm forgetting a ton of others. Sorry in advance for spacing on you.
Despite public opinion that golf is dying, I disagree. We are entering a golden age of turf management, led by the revolutionary thinking of greenkeepers. This game we all dearly love is in great stands, and I cannot wait to see what the future holds.
---
Chris Tritabaugh, superintendent of Hazeltine National Golf Club in Minnesota, wasn't at the Atlantic Turfgrass Conference & Trade Show, but he made sure to weigh in with his thoughts on minimalist greenkeeping.
Not there, but still a presence
Chris Tritabaugh didn't make it to Moncton, which was totally beat. I was looking forward to meeting this character, who rips the occasional power nap at work while having the nerve to tweet about it.
Tritabaugh is not your basic greenkeeper. What is considered routine by the majority is constantly questioned by this inquisitive individual, particularly his attitude pertaining to minimalist greenkeeping.
Some would assume it's easy for him to adapt this style, because he grows grass in Minnesota. But in true Tritabaugh fashion, he has an answer for the naysayers.
"It doesn't matter if you're in Minnesota or Philadelphia," he says. "When it comes to inputs, approach the beginning of the season at zero, like a zero-based budget. Then only add the inputs that are absolutely necessary to create the desired playing surfaces for your particular situation."
Everyone was disappointed Tritabaugh couldn't make it, but we all understood. For a roomful of people whose livelihoods depend on the weather, it was just the umpteenth reminder from Mother Nature about who is really in charge.
Photo: Micah Woods (top) Joe Gulotti (bottom)