Impressions of 2018's Golf Industry Show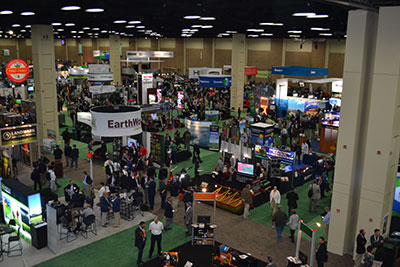 Returning from GIS 2018 this past month, an email from Golfdom Managing Editor Abby Hart was waiting for me, reminding me of my March column deadline. What better time, I thought, to write on my impressions of GIS in San Antonio.
I arrived in San Antonio just in time for the opening ceremony, where Ernie Els received the Old Tom Morris Award. I enjoy the format where the recipient is interviewed. The result often provides insight into the person. I was struck by a question Els was asked. I'm paraphrasing, but it was something like, "Is it hard to keep up the grind of playing tournament golf?" His reply was classic. Again, paraphrasing: "Are you kidding? I'm leaving to go play Pebble Beach. Who would not want to do that?"
His reply reminded me why the golf industry is so great.
Following Els, three award recipients made short but emotional speeches. Drs. Latin, Brilman and Rossi all spoke of the joy and gratification they receive from helping golf course superintendents. Much of their personal satisfaction is seeing superintendents succeed.
The trade show opened on Wednesday. I did not plan what to see and ended up lost on the show floor. Someone mentioned the show app for my phone, and I was set. As I looked at the face of my phone, it struck me what a large and indispensable part of life a mobile phone has become. At seminars or talks, we take notes on the phone, not paper, and you can record talks. Questions on products, turf problems or equipment are answered through search engines. Then there are the apps associated with running a course, from irrigation to timing of products.
Also, did you notice how targeted "sponsor" advertisements crossed your Twitter or Instagram accounts? These were specific to turf companies and even GCSAA. Do any superintendents use these advertisements to target high school students for summer employment? I don't know how sponsor insertions work, but I would be interested in knowing if anyone is using them to target future employees. It must be more effective than running an ad in a newspaper.
Walking the aisles, I was reminded by a former student that there is a big difference between the aisles and the booths. The difference is like night and day. The aisle is a fun place, walking, talking, telling old, boring stories to friends and colleagues. But working the booth is hard. I give the exhibitors a lot of credit; long days (up early, to bed late), short breaks, minimal lunch, continual questions from the aisle, being nice to everyone, meetings and on your feet all day. It takes special people to be exhibitors.
Thursday's highlight is the academic Turf Bowl for college and university turfgrass students. The first Turf Bowls consisted of individual competitors, then they evolved into team competitions. With that change, the popularity of the Turf Bowl grew and help spur student attendance at the GIS. The Turf Bowl builds camaraderie among team members, not only in the competition, but in the studying leading up to the competition and with students from other teams.
Additionally, the Turf Bowl awards ceremony has evolved from a pizza party paid for by donations with winners announced casually, to John Deere's gracious sponsorship and announcing of the winners in their booth, to a polished evening celebration. I hope, though, that we don't lose sight that the Turf Bowl was developed to provide an event for students to build friendship among students.
I judged the GIS a success, based on being able to see and talk to people who I haven't seen in a year. It is a rejuvenating experience that makes you look forward to the coming year.