Hunter: G885 Golf Rotor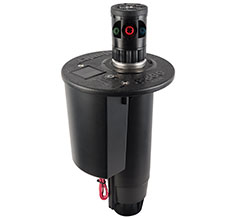 Boasting the highest torque output of any golf rotor on the market, the G885's patented gear drive will push through anything that gets in its way. With just one rotation of the turret by hand, you can feel this rotor's durability. With its powerful core, efficient nozzles, and full circle and part circle capabilities, the G885 is the golf rotor you can count on.
Throw in the convenient serviceability of Total Top Service (TTS) and Decoder-In Head (DIH) technology for even more intelligence. The G885 is ideal for new construction, retrofit, and system upgrade situations. To learn more, visit www.hunterindustries.com/irrigation-product/golf-rotors/g885.
Photo: Hunter