Behind the scenes of Oregon's The Reserve bunker renovation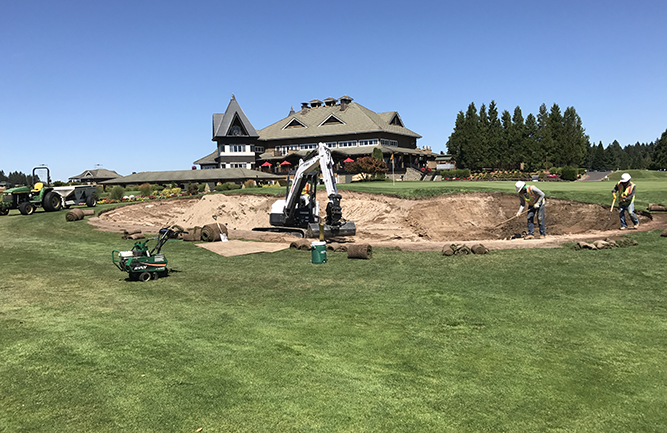 Golf course architect John Fought speaks fondly of The Reserve Vineyards and Golf Club in Hillsboro, a suburb of Portland, Ore.
"The Reserve was one of my first — probably was my first — real solo design," says Fought, of John Fought Design. "I have special memories of that project."
The picturesque golf course consists of two 18-hole courses, the North Course and the South Course, which alternate between private member play and public play. Rotating the first and 16th of each month, players experience challenging and refreshing play all year on these champion-level courses.
"It's unique in the fact that the public golfer as well as the membership gets an opportunity to play two totally different golf courses," says Jason Blythe, director of agronomy at The Reserve.
Back in the mid-90s, The Reserve engaged two of the top golf course architects in the nation, Fought and his partner, the late Bob Cupp. Cupp would design the North Course while Fought would plan the South Course. According to Blythe, the North Course is a links-style golf course, with minimal bunkering and lots of rolling terrain with native, unmaintained areas. In contrast, the South Course design is more challenging, with lots of hazards.
Fought, the 1977 U.S. Amateur champion and a two-time PGA Tour winner, remembers his time working with Cupp, who passed away last August at age 76. "My old design partner, Bob Cupp, did one course and I did the other one," Fought says fondly. "So, he just fashioned the idea at the time, 'John, why don't you do like all the bunkers, and I am going to do like none … I am just going do a few, and ground contouring. You love bunkers, so why don't you do them?' So, that was the plan, I did over a hundred bunkers on the (South) golf course."
The Reserve opened in 1997 under private ownership and in time, the South Course became a darling among the pro circuit, playing host to a handful of championships.
Deterioration over time
While Fought had taken great pride in designing the challenging South Course, his original motif had become costly to maintain and experienced a great deal of deterioration in just 20 years.
"If you are not familiar with the Pacific Northwest, we golf year-round here," says Blythe. "Even if you are not familiar with the Pacific Northwest, you do know that it rains a lot. Spring, fall, winter. Lots of rain. Lots of bunker sand washing off the faces of bunkers, the sand becoming contaminated with silt and dirt."
The Reserve's South Course prior to renovation had a total of 114 bunkers. While a course with that number of bunkers is attractive to more experienced golfers, it's far from sustainable. For Blythe, it became essential to have a course that would attract a variety of golfers from the growing population in his region while minimizing operational costs. With the South Course in its existing state, that proved a challenge.
"Sustainability — that word that's always thrown out there — it's a hot topic for everybody, so (a renovation was) our part in becoming sustainable and self-sufficient," Blythe says of their approach to a renovation.
Related: Find out how an Arizona course combats elk damage in bunkers. Read the story here.
By August of 2016, Blythe continued to find ways to maintain the South Course. Simultaneously, Fought, while in the area, visited the course, creating a serendipitous start to a renovation.
"It was kind of funny," says Fought. "I happened to be in Portland and thought, 'I'll go by and take a look at it,' and I saw the bunkers had badly deteriorated." As part of that visit, he received a tour of the course and spoke with The Reserve's original and current owner, Jim Park.
Fought continues, "(Park) just said, 'You know, I just need to hire you to fix these,' and away we went."
Fought understood that bunkers are a man-made feature, and in many cases they don't have the sand or drainage to last 20 years, which Blythe was seeing firsthand. Moreover, the bunkers Fought designed in 1997 didn't have the technology used today to preserve sand.
"The problem is," Fought says, "when the bunkers get old, it's just that much more to fix them. The bunker sand is triple what it was when we built the golf course — it just wasn't sustainable the way it was. I went in and created a whole new design for the greens complexes and the bunkers and made it so that instead of over 100 bunkers, now it has 58, and that's really all it needs."
The near $1.5 million-dollar renovation began mid-July of last year. "We have a very short window for moving dirt here in the Pacific Northwest," explains Blythe about the speed of the renovation.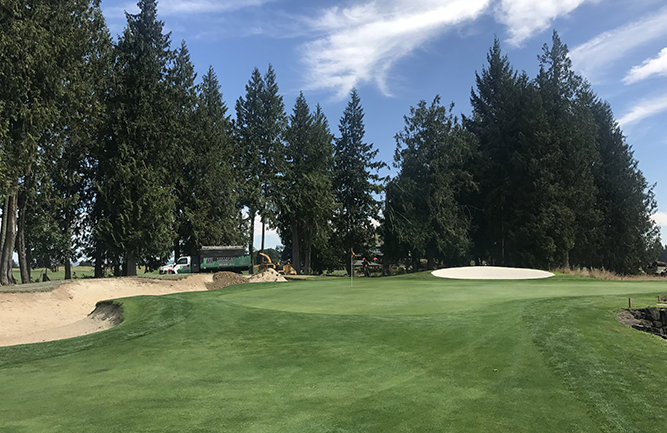 The Reserve's No. 16 green before and after tree removal.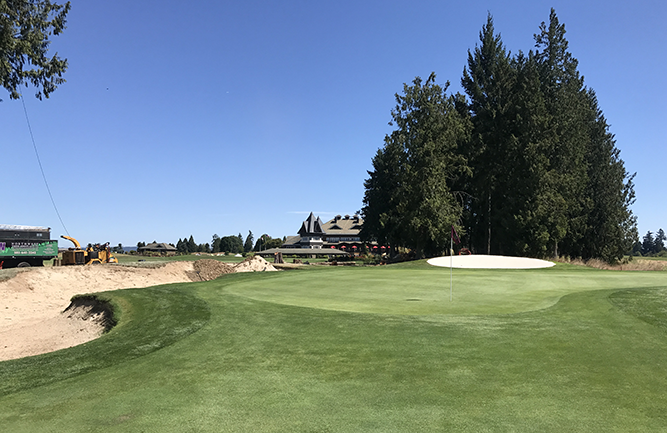 Greens and bunkers, bunkers and greens
The design incorporated two major transformations: new low-mow greens complexes where bunkers had been previously, and upgrading existing and new bunkers with more efficient technology.
According to Blythe, the sand-plated low-mow areas were built with the low- and high-handicapped players in mind. "This tight lie shot would be more appealing to a higher handicap golfer," he notes. "Rather than being stuck in a deep bunker, they could now have the opportunity to putt from this lie. Take the lower-handicap golfer from this same position and they would understand how much more difficult and strategic this tight lie shot is versus a nicely maintained bunker lie."
As for bunkers, the new design called for upgrading to Better Billy Bunkers, installed by Duininck Golf out of Minnesota.
"We've worked very closely with John Fought on other projects and have a good working relationship on how to bring value to the project and projects like this," says Judd Duininck, owner of Duininck Golf. According to Duininck, they decreased the number of bunkers but also strategically added a few, many upgraded to the Better Billy Bunker Method.
This bunker technology provides a polymer drainage layer between the subgrade and the sand that allows rainwater to release out of the sand into the gravel layer. Water then percolates down through the gravel layer into the drain tile, basically keeping the sand from getting saturated, contaminated or sliding into the bunker.
"Utilizing this liner, we should be able to maintain the quality of the sand and minimize contaminations, in turn making them last longer and play consistently better," says Blythe.
Following the renovation, players were skeptical of the bunkers, as many were rebuilt with a familiar steep grade, suggesting that the sand might still slip and again become contaminated. But Blythe is convinced otherwise.
Related: The Riviera CC finds a solution to its bunker problems after torrential storms hit during the 2017 Genesis Open. Read that story here.
"The utilization of this liner has proven through some rain that in these bunker faces, the sand is going to stay in — it's not moving at all. They are going to be playable after a rain event," says Blythe. "From a design aspect, I think everybody is extremely happy. It's a completely different golf course and it's a more strategic golf course."
For Fought, the renovation was as endearing as working on his original design.
"Twenty years later, it's fun to go back and make those small adjustments that really make the golf course better… the fun thing is every hole is better now," says Fought. "Let's hope for the next 25 years it's going to be even more fun to play."
Travel writer Katy Ibsen is based in Lawrence, Kan., and is a regular contributor to Golfdom.
Photos: Jason Blythe