Tuesday session opens the gates to GIS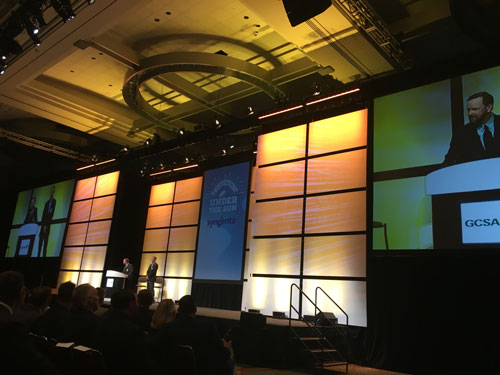 The GCSAA formally threw open the doors to this year's Golf Industry Show with an Opening Session Tuesday evening that included a little of the old and a little of the new, which pretty well sums up this year's GIS motto, "Everything Under the Sun."
In front of a mostly filled ballroom of superintendents and invited guests, the association in a tradition-filled manner honored members for service to the golf course industry, reported on some industry milestones and, in a refreshing take, brought in a well-known broadcaster for some Q&A with the recipient of its most prestigious award.
The session's corporate sponsor, Syngenta, was represented by Jeff Cox, global head of lawn and garden, who told the gathering that golf can reach its next level of success only by increasing the diversity of the people who play the game. He noted that women golfers, who make up only a fraction of total golfers, need to be a focus for golf to reach its potential. And in case you were wondering, Cox in his remarks made only the slightest of allusions to the recent confirmation that Syngenta has agreed to be acquired by the Chinese firm ChemChina for $43 billion.
In news a little closer to home, GCSAA CEO Rhett Evans told the assembled attendees that a number of factors "are coming together" to help pull golf out of the doldrums of the past few years.
He cited as proof the fact that rounds played increased 3.4 percent last year (which adds to recent yearly gains of that magnitude), that golf can now boast of a record TV viewership, and that last week's Waste Management Phoenix Open drew a record on-site attendance of more than 600,000 fans. And although Evans didn't mention it in his remarks, that figure includes a single-day gallery record of 201,003 for Saturday's third round, which is the second-largest crowd for a sporting event in U.S. history.
But all that, according to Evans, is not the end of the good news. Golf has added about 800,000 junior players, more than any other sport, and golf's water use has dropped 22 percent since 2006. Adding to the embarrassment of riches, Evans said that GCSAA's Grassroots Ambassador Program now has ambassadors connected to an ever-increasing number of members of Congress.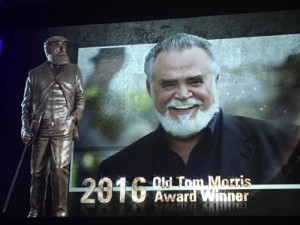 All this has been done, he noted, in the face of continuing regulatory pressures, water concerns and global economic shifts. Acknowledging that GCSAA cannot fight for golf alone, Evans praised the partnership the association has formed with the PGA of America, the USGA and the PGA Tour. As a good-news addendum, Evans announced that the PGA Tour's Cal Roth informed him that the Tour would contribute $5,000 per year for the next five years to support the efforts of the Environmental Institute for Golf.
One welcome aspect of the program had the 2016 Old Tom Morris Award recipient, Herbert V. Kohler Jr., sit down for a chat with former PGA Tour professional John Maginnes, host of Sirius XM radio's "Maginnes on Tap" program.
The talk show host took Kohler through the highlights of his 25-plus years in the golf course industry, including the conception and construction of Kohler's two Pete Dye masterpieces, Blackwolf Run and Whistling Straights.
Kohler said he was delighted to receive an award previously won by Dye and named after Old Tom, who "was a man who built and maintained an organic golf course and taught us the way to do it today."
Photos: Golfdom
Joelle Harms is the Senior Digital Media Content Producer for North Coast Media. Harms completed her undergraduate degree at Ohio University where she earned a Bachelor of Science in Journalism and Creative Writing Specialization from the E.W. Scripps School of Journalism. She specifically creates content for North Coast Media's 
Golfdom
, 
GPS World
, Geospatial Solutions
and Athletic Turf digital properties including eNewsletters, videos, social media and websites.