Trojan introduces Trillium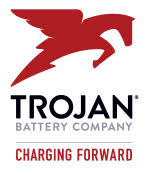 Trojan Battery, a manufacturer of deep-cycle energy storage solutions for motive and stationary applications, is introducing the Trillium line of Trojan intelligent lithium batteries. With life expectancy over 5,000 cycles, the company says Trillium maximizes total energy throughput, lowers lifetime operating costs and meets demanding deep-cycling requirements across a wide range of stationary and motive power applications.
Trillium is designed and engineered in the United States and initially is available in three sizes. Trillium offers an intelligent built-in diagnostic as well a superior cell and battery design, the company says.
The new battery is designed to be a replacement for existing lead acid batteries. The built-in battery protection system guards the battery from the extreme demands. Trojan says aftermarket customers without lithium battery experience are now able to switch to this advanced technology without the need for sophisticated expertise in lithium ion technology or system integration. In addition, OEM customers can quickly add the Trillium range of products into equipment without significant investments in custom pack design and development, according to the company.
Trojan announced late last year that C&D Technologies, a portfolio company of KPS Capital Partners, would acquire Trojan. This acquisition combines two leading battery manufacturers with complementary product portfolios to create one of the largest energy storage providers, with over $1 billion in revenue, eight manufacturing facilities and a presence in every major region.
C&D Technologies is headquartered in Blue Bell, Penn., and manufactures, engineers, supplies and services fully integrated reserve power systems for regulating and monitoring power flow and providing backup power.
In addition, Trojan is now partnering with Tomberlin (Columbia Vehicle Group) to use the new Trillium line for Tomberlin's entire line of electric vehicles for golf, personal transport and utility use. While lead acid batteries will continue to be the leading and most cost-effective battery technology for the golf industry in the coming years, the company says recent advancements in other battery technologies, such as lithium, are creating niche solutions for a select group of customers in certain environments.
Founded in 1925, Trojan is ISO 9001:2015 certified with operations in California and Georgia and maintains two of the largest and most extensive research and development centers in North America.