Toro gets busy at GIS 2018
It's not at all unusual that Toro takes advantage of the Golf Industry Show to make major product introductions, so it should come as no surprise that they've done it again at GIS 2018 – in spades.
As usual, we'll break this down by systems, iron and irrigation, with room at the end for some golf industry-related announcements.
Systems
Revamped myTurf Pro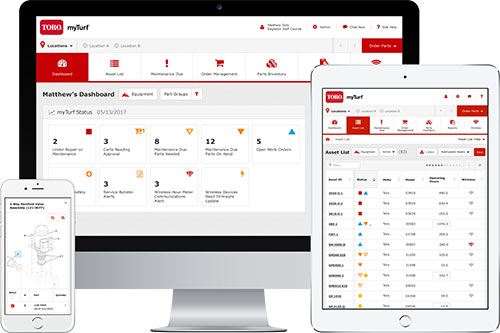 The company has launched myTurf Pro, a completely revamped web-based asset management system for turf maintenance. The system is based on four key principles – connect, manage, maintain and simplify.
The system enables optimized asset management for equipment, attachments, irrigation and other assets.
Toro says myTurf Pro seamlessly connects and manages assets, regardless of brand. The "at a glance" dashboard keeps management informed of maintenance requirements and operational status. Detailed historical maintenance records provide valuable information on total cost of ownership and asset performance, while demonstrating operational excellence. Additionally, the system allows technicians to automate processes with proactive maintenance notifications, and the industry's first equipment connectivity tool — Toro wireless hour meters — to automatically track operating hours. It also offers quick access to service documentation, manages maintenance assignments and tracks completed tasks within the myTurf Pro system.
New features include fuel tracking and managing maintenance down to individual cutting units, while introducing 24/7 online parts ordering. Unique to myTurf Pro, the system can now make parts order recommendations based on the user's current inventory and maintenance needs. For Toro products, the system provides model/serial number-specific interactive master parts viewers, up-to-date reference materials and the ability to submit service requests to a Toro distributor.
The myTurf Pro system will be available later this year.
Iron
Outcross 9060
The all-new Outcross 9060 is a kind of cross between a tractor and a super-duty utility vehicle. The company says it's designed to allow superintendents and turf managers to do more with less stress, less labor, fewer resources and less time.
The Outcross 9060 is turf-friendly thanks to a weight-balanced chassis and four-wheel steering, coupled with full-time four-wheel drive. All four wheels turn individually at a rate determined by the machine's ground speed and turning angle, ultimately minimizing the possibility of turf damage and allowing the machine to traverse various terrain with ease.
Superintendents and turf managers also can pre-program attachment parameters, reducing the possibility of operator error. The Outcross incorporates a standard three-point hitch with PTO, drawbar and universal loader mounting plate, enabling the machine to accommodate a variety of standard turf maintenance attachments. Additionally, the controls are simple and intuitive, allowing operators of all skill levels and experience to expertly accomplish a variety of tasks.
The unit features a passenger seat and roomy operator station for easily transporting people, as well as an optional cargo bed with a 4,500-pound, 1.3 cubic yard capacity for hauling tools and materials. It's can tow up to 16,000 pounds and is powered by a 59.8- hp Yanmar liquid-cooled diesel engine.
Intuitive one-action controls, a utility bed and cruise control come standard on the Outcross 90.
Groundsmaster 1337 Pull-Behind Rotary Mower

Scheduled to be ready in the fall is the all-new Groundsmaster 1337 pull-behind rotary mower, which includes three contour-following cutting decks, each equipped with dual full rollers. It has a 12-foot width of cut paired with simple height of cut adjustment from 0.5 inch to 4 inches.
The cutting decks feature the same Groundsmaster spindles with heavy-duty shafts and dual tapered roller bearings. Like the Groundsmaster 5900 Series, the Groundsmaster 1337 features bidirectional impact absorption technology, which cushions and protects the individual cutting decks against damage from inadvertent contact with obstacles while mowing. The decks also fold up for simple and safe transport. In addition, the unit features transport axles that have an integrated torsion spring, effectively serving as a suspension system to eliminate bumps and jarring for a better operator experience.
As with the Outcross 9060, the Groundsmaster 1337 also is compatible with many other tractor makes and models. Demo units will be available this summer, and Toro expects to begin shipping in fall 2018.
Irrigation
Lynx 6.0 Central Control Solution
Based on feedback from users, Toro has launched Lynx 6.0, the latest version of its Lynx Central Control System.
The new version of Lynx features a new hardware platform, called GAC-R, that allows Toro's SitePro CDS customers to readily upgrade to the latest technology. Toro says this upgrade will provide vastly improved diagnostics for easier troubleshooting and enhanced irrigation precision, with runtimes now calculated to the second, allowing superintendents to more efficiently manage water usage. The new hardware offers improved surge protection and state-of-the-art field interface devices, and allows Lynx customers with Motor Controls Inc. pump stations to integrate seamlessly with Lynx, improving their system operations.
Lynx 6.0 also offers comprehensive email and text (SMS) alarm notifications. The alarms can be set up for many different users, and customers can schedule the alerts to be sent to specific team members according to crew work schedules. The new version features a hole/area naming utility, as well as an added control system column for back nozzles. Additionally, Lynx 6.0 integrates with the all-new NSN Sentry, which monitors the status of Lynx and provides notifications by preset email or text if Lynx is not running during irrigation hours.
In conjunction with the release of Lynx 6.0, Toro is releasing its latest computer package through Toro NSN. New Lynx 6.0 systems ship with the most current computer specifications, and Lynx 6.0 is still compatible with existing operating systems and computers.
Lynx Smart Module
Available now, the Lynx Smart Module is a new technology saving operating costs through precision irrigation and providing high-speed diagnostics with a durable and reliable design.
The Lynx Smart Module is the latest two-wire control system technology from Toro, designed for Infinity and Flex800 sprinkler systems. The Smart Module makes it possible to control sprinkler run times down to about one second, which Toro says significantly saves water savings by preventing overwatering.
The Smart Module is designed to withstand tough lightning conditions. It works with Lynx Smart Hub to protect flow-managed irrigation schedules, even in the event of a central failure.
The module provides diagnostic data for up to 1,000 sprinklers within seconds, allowing superintendents to address issues efficiently and reduce downtime. It also can be upgraded remotely with just a click, providing superintendents new features and benefits as they become available.
Sensor input kits
Toro this week has launched new sensor input kits for Network VP/ VPe and Lynx Smart satellites, which are available now. Also included in the launch are two new sensor kits, a pressure sensor kit and a temperature sensor kit that are fully compatible with the sensor input kits.
These new tools deliver field data to Toro Lynx Central Control Systems and allow customers to assess and adjust irrigation programs accordingly based on real-time data.
Additionally, the sensor input kit generates automatic responses to changes in the irrigation system and weather when coupled with sensor alarms in Lynx.
The kits can accept up to seven sensors, including a pressure sensor, a temperature sensor and five customizable inputs for a rain gauge, a flow meter or for indicating switch status.
Announcements
Donations for Rounds 4 Research
The Environmental Institute for Golf (EIFG), the philanthropic arm of GCSAA, has again received a $50,000 grant from Toro for continued support of the program.
Rounds 4 Research addresses a critical shortage in turfgrass research funding by auctioning donated rounds of golf online. The program allows GCSAA chapters and turfgrass foundations to participate as fundraising partners and direct the proceeds from auctioned rounds to specific projects that will have the most significant impact in their local areas.
Since its launch in 2012, Rounds 4 Research has raised more than $800,000. The 2018 auction will be held April 30-May 6 and is available to preview at www.biddingforgood.com/rounds4research. The program is administered by the EIFG and presented in partnership with Toro.
Toro is a longtime partner of the EIFG, donating more than $2 million since 1987 to help support scientific research, education and scholarships for future turfgrass professionals.
Ambassador Leadership Award
Toro has been named the presenting sponsor of the GCSAA Grassroots Ambassador Leadership Award, which is created to recognize actively engaged ambassadors currently enrolled in the GCSAA Grassroots Ambassador program.
The goal of the Grassroots Ambassador program is to match a GCSAA member with a member of the U.S. Congress and build strong relationships to advocate on a grassroots level for the golf industry. Ambassadors commit to a two-year appointment with the option to continue for two additional years. The link between the ambassador and the member of Congress is based on golf facility location.
The recognition package sponsored by Toro includes an all-expenses-paid trip for four ambassadors annually to the National Golf Day event in Washington, D.C. The annual fly-in will feature exciting opportunities for award recipients, including a community service project on the National Mall, Capitol Hill meetings with lawmakers to discuss priority issues for the golf industry and other engaging events.
The partnership between Toro and the GCSAA officially began on Jan. 1, 2018. Toro will sponsor this GCSAA initiative for a minimum of three years.
Melrose Leadership Academy
Nineteen members of GCSAA have been chosen for the 2018 Melrose Leadership Academy, which includes a trip to this week's GIS.
The Melrose Leadership Academy program supports the professional development of GCSAA member superintendents. It is administered through the Environmental Institute for Golf, the philanthropic organization of GCSAA. The program was established in 2012 by Ken Melrose, retired CEO and chairman of the board of Toro, and is supported by a $1 million gift to the EIFG from the Kendrick B. Melrose Family Foundation.
Academy members are chosen through an application process based on financial need, volunteerism and a drive to advance their careers. The new class will participate in networking and leadership activities, as well as attend a variety of education seminars.
The members of the 2018 Melrose Leadership Academy are:
Albert Choiniere of Essex (Vt.) Country Club.
David F. D'Andrea of Sable Oaks Golf Club in South Portland, Maine.
Jerad Dill of Cabinet View Golf Club in Libby, Mont.
Andrew Fries, CGCS, of HB Brownson Country Club in Shelton, Conn.
John Gabbeitt of Owl's Nest Golf Club in Campton, N.H.
Mike Gay of Winter Pines Golf Club in Winter Park, Fla.
Ryan Green, CGCS, of Crystal Lake Golf Club in Haverhill, Mass.
David W. Johnson of Wianno Club in Osterville, Mass.
Gregory Klem, CGCS, of Monroe County Golf Courses in Rochester, N.Y.
Scott Larsen of Emerald Valley Golf Club in Creswell, Ore.
Manuel 'Joe' Oliveira of Green Valley Country Club in Portsmouth, R.I.
Dennis Petruzzelli, CGCS, of Billy Casper Golf in Danbury, Conn.
James J. Ritorto of Lake of Isles Golf Club and Resort in North Stonington, Conn.
Scott Sewell, CGCS of Emerald Bay Golf Club and Seascape Resort in Destin, Fla.
Brian Smoot of Crosswinds Golf Club in Plymouth, Mass.
Dennis Stein of The Golf Garden of Destin in Miramar Beach, Fla.
Craig Stockhaus of Lewis River Golf Course in Woodland, Wash.
Joshua Tolman of Salmon Valley Golf Course in Salmon, Idaho.
Roger Vandehey of Middlefield Golf Course in Cottage Grove, Ore.
Toro, Canadian society agreement
Toro and the Canadian Society of Club Managers (CSCM) have announce a new agreement, which makes Toro one of CSCM's valued Gold Corporate Partners.
CSCM's Corporate Partner program recognizes industry partners that share the values of CSCM and offer CSCM members support in their roles as leaders in the club management profession in Canada.
The agreement began Feb. 1, 2018.
Photos: Toro