Todd Eckenrode-Origins Golf Design completes renovation at Lakeside GC

Todd Eckenrode-Origins Golf Design recently completed construction of a large-scale restoration and renovation project at Lakeside Golf Club, located in Burbank, Calif.
"Lakeside Golf Club is a very special and significant golf course, with a storied lineage of members and an iconic original designer," said project architect Todd Eckenrode. "This project represents a huge step forward for the club by restoring its best features and character."
Max Behr, a renowned writer, editor and player in his day, originally designed Lakeside Golf Club, which opened in 1924.
The original design at Lakeside, which was built along the Los Angeles River, featured a man-made dunes course, with sandy soils at its base. Wide fairways were also featured, with bold contouring throughout, as well as subtle strategic bunkering and large greens.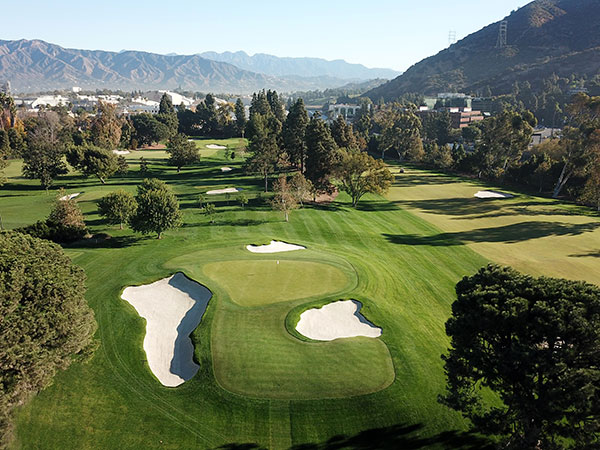 In 2011, Todd Eckenrode-Origins Golf Design aided Lakeside in its first phase of an overall rejuvenation of the golf course, replacing all infrastructure on the course. Fairways were sodded to hybrid Bermuda, and approaches were opened up and renovated. This was a major first step in reducing water use and presenting firm and fast conditions for golfers, in keeping with Behr's original intent. Essential to the restoration was removal of numerous trees, opening up view corridors, increasing sun and air circulation.
The recent project's focus was on increasing the interest, variety and playability in the course, while restoring elements of the course more in line with its early original design. The use of historic aerials and ground photos was also a useful tool in understanding green perimeters, bunker locations and their relationship to each other, as well as general width of playing corridors.
Green perimeters were restored, recapturing lost hole locations that had resulted from the shrinking of the greens, which is typically seen on older courses.
A new green was created on the par-5 No. 2 hole, as close as possible to its original location before the great floods in the late 1930's wiped it out, and a redesign had moved it back over 50 yards. The new green for the longer Hole No. 2 plays off a slope leading to the 3rd hole tees, and adjacent to a previously concealed grove of native oak trees. A central "spine" contour in the fairway was lengthened and carried toward the green, to lend interest and strategy to a second-shot layup, and in homage to Behr's notable fairway contouring throughout the course.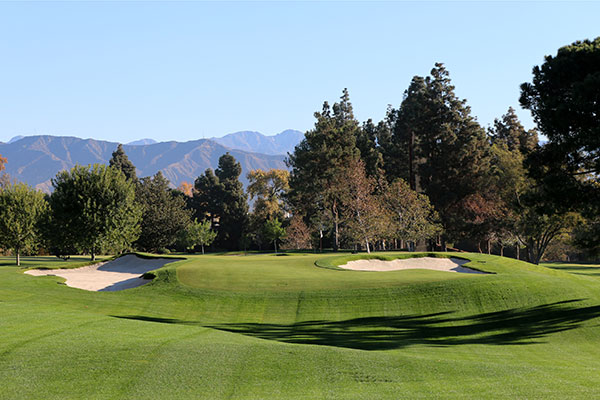 Bunker work was comprehensive, and included removal of many non-original bunkers and restoration of most original bunkers in the post-dunes design. The bunkers now blend into the appealing natural landforms featured at Lakeside and restore the course more to its historic model.
Short-cut chipping areas were added to numerous areas adjacent to greens, highlighting the design features and landforms of the green surrounds at the lower turf heights. Paired with the work to the approaches completed prior, allowing the ball to bound in or run away on approach shots, the surrounds are now a striking improvement in the design. The ground game is showcased, and there is true variety in shot options and greater playability for players of all skills.
Several fairways were renovated as well. Originally the course was largely one height of cut, predominately fairway throughout the dunes areas. As part of the project, portions of select fairways were joined together, creating a more natural flowing and organic look to the holes. Fairways were also widened.
No. 15 Short is a without a doubt a highlight of the project. Up until recent years, there was a large cedar tree blocking the use of the hole completely, which was removed in the first renovation. This year, the bunkering concept that surrounds the green was restored, which expanded the green all the way to the right and left flanks, and into a backstop as well, which was the only safe way to play the hole. The green is close to three times its previous form, and nearly surrounded in hazards.
The project was led by Course Superintendent Robert Hertzing of Lakeside Golf Club. Lead shapers were Jonathon Reisetter and Andrew Littlefield, with assists from Kye Goalby and Blake Conant. The project's contractor was Landscapes Unlimited.
Photos: Todd Eckenrode