The Ashford Short Course scheduled for August opening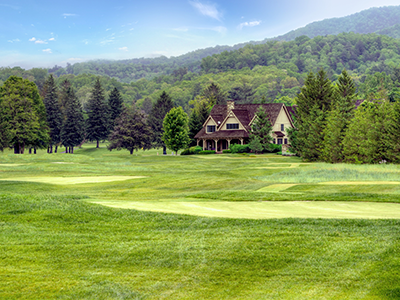 The newest addition to the award-winning golf offerings at The Greenbrier and The Greenbrier Sporting Club is scheduled for an August 2018 opening.
The Ashford Short Course at The Greenbrier Sporting Club will be a walking-only 9-hole loop of par 3 holes ranging from 56 to 112 yards in length. The holes will pay tribute to revered architects and courses around the world and provide a relaxed family environment that will be entertaining for golfers of all levels and abilities.
Available for both members of The Greenbrier Sporting Club and guests of The Greenbrier, the newest golf offering will complement the courses already in place – The Old White TPC, which hosts The Greenbrier Classic annually, the redesigned Meadows Course, which features signature stacked sod bunkers, and The Snead Course, an award-winning Tom Fazio design exclusive to members of The Greenbrier Sporting Club.
"The Greenbrier is known around the world for first-class golf, and this is just another example of our commitment to giving guests what they desire," said Robert Harris, vice president of Golf at The Greenbrier. "The Ashford will provide an opportunity for something new and different on days where guests and members just don't have time to play 18 holes. We're incredibly excited to add The Ashford to The Greenbrier collection."
In addition to providing a place for beginners to learn the game or an experienced golfer to work out the rust in his or her short game, the course will host unique events like night golf and closest to the pin contests.
The new course's name, The Ashford Short Course, pays tribute to the rich history at The Greenbrier and remembers a unique moment in The Greenbrier's more than 240-year past.
In 1942, the historic resort was sold to the United States Army, and it became a hospital for sick and wounded soldiers during World War II. Named for Army physician Col. Bailey K. Ashford, Ashford General Hospital treated more than 25,000 soldiers from 1942 through 1946. It employed 45 doctors, 100 nurses and 500 enlisted men, along with hundreds of volunteers. The recovering servicemen benefited by using The Greenbrier's immaculate facilities – including the pool, the golf courses and the tennis courts – during their recovery.
"We're incredibly proud of our history at The Greenbrier, and we want to do all we can to make sure it isn't lost," said Dr. Jill Justice, President, The Greenbrier. "The Ashford name honors the men and women who spent time here in service to this great country, and it fits perfectly on this exciting new course."
Set in the valley floor with breathtaking views of the surrounding mountains, the course will be accompanied by seven new home sites for members of The Greenbrier Sporting Club.
"With its close proximity to the Members Lodge, the course is convenient for all of our members before or after lunch or dinner or anytime they have a little extra time," said Larry Klein, Vice President and General Manager of The Greenbrier Sporting Club. "We can't wait for everyone to try it."
Photo: The Greenbrier