Standard Golf: Tour Smooth II bunker rakes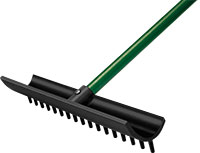 Tour Smooth™ II bunker rakes can be found in bunkers around the globe. Now with improved rake assembly and the exclusive Gator Grip™ Handle, this rake is at the top of its game. That goes for the 15″ (38 cm) head and the 22″ (56 cm) head, which is now back by popular demand.
Performance: levels both fine and coarse sand into playing conditions smooth enough for the pros.
Assembly: a single self-tapping screw is all this rake takes.
Handle: pair it with a composite, aluminum curved or Gator Grip™ Handle.
Learn more at www.standardgolf.com.