Reinders' Rundblade wins Toro's Green Blazer Award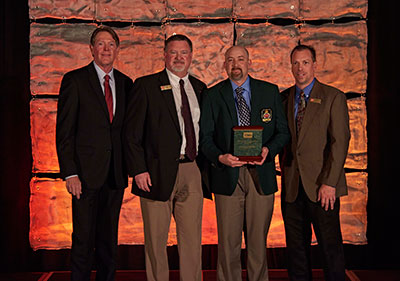 Grant Rundblade, SCPS, of Reinders, received the Green Blazer Award.
The award is given to a sales representative who has a minimum of three years' experience selling Toro products. It recognizes individuals who are contributing to the industry and bringing enhanced knowledge to their customers.
The Green Blazer was presented to Rundblade during Toro's annual worldwide distributor business meeting, which was held in conjunction with the Golf Industry Show.
"Grant's analytical perspective helps him create individualized plans for his customer," said Jim Heinze, director of commercial sales for Toro's commercial business. "He is intensely passionate about all he does."
This isn't the first time Rundblade has been recognized for his work. In 2015, Toro named him the winner of its Rookie of the Year award.
"Grant is well deserving of this award," said John Jensen, Reinders' commercial equipment division manager. "He will continue to go far in this business."
Rundblade has been selling for Reinders since 2014.
Photo: Reinders