Rain Bird: 751 Rotors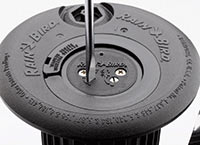 Rain Bird® 751 Golf Rotors make it possible to easily and quickly adjust watering on greens, fairways or roughs as needed. These rotors feature simple, top-adjustable rotation settings that retain the memory of their part-circle arc setting when shifting between full- and part-circle operations. As a result, superintendents can increase or decrease the rotor's throw radius with a simple twist of the wrist.
Because 751 rotors are backwards-compatible, superintendents with older Rain Bird rotors currently installed on their courses can easily integrate the 751's Rapid-Adjust Technology by simply dropping the 751's internal assembly into their existing rotor cases.