Quail West Golf & Country Club gears up for renovation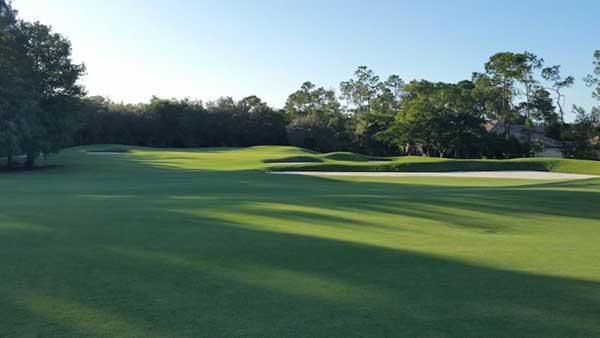 The Preserve Course at Quail West Golf & Country Club will reopen early in 2017, following a major renovation authored by architect Drew Rogers. Rogers will then begin a similar overhaul to the club's second 18, The Lakes Course, in the spring of 2017.
Rogers' work at The Preserve included a complete green and bunker renovation, irrigation replacement, conversion to Celebration Hybrid Bermudagrass, practice facility expansion and tee realignment. It is also a case study in how courses built during the development boom (1990-2005) are now being renovated and otherwise fine-tuned to address issues both demographic and agronomic.
"The wooden retaining wall, for example — that familiar feature providing the hard edge between greens, tees and water hazards at so many south Florida courses — is a good way to understand what happens to these courses over time," said Rogers. "Putting surfaces are typically designed to be flush with the top of those walls, but 25-30 years of sand and thatch accumulation have raised up the greens and tees. In a region where top-dressing is a year-round discipline, a putting surface can rise a half-inch every 12 months."
According to Mark Black, director of golf course maintenance and grounds here at Quail West, the former ultradwarf putting surfaces on The Preserve Course sat some 13 inches higher than the day the course opened for play, in 1992. For the golfer, the difference can be too gradual and subtle to notice — perhaps until the moment his or her ball rolls back off a green into the drink.
Accordingly, Rogers completely overhauled all 18 green complexes at The Preserve, equipping each one with a PrecisionAire system that allows moisture to be mechanically siphoned through the sub drainage more effectively, thus stimulating root growth and preventing organic buildup. He also replaced those timber retaining walls with stacked capstone and reinstated the seamless relationship between putting surfaces, collars and hazards. As putting surfaces rise, the impact and drama of outlying green contours tend to be diminished — so Rogers pumped new life into these surrounds, a process he integrated with a bunker reconstruction strategy that effectively reduced the bunker total from 56 to 45.
The new irrigation system will mean more efficient coverage and less overall water usage on The Preserve, where Rogers and the construction teams from Lepanto Golf Construction (and Leibold Irrigation) were obliged to leave existing play corridors untouched.
"Some of the putting surfaces had become adversely affected by the shade, but because this is an honest-to-God 'preserve', this 25-year-old vegetation cannot be touched," Rogers explained. "Several greens were tucked on one side (or another) of these fairway corridors, so in several cases we picked up the greens and adjusted their position within the space, to get more sunlight and better reimagine the surrounds that frankly give these holes so much more character today."
Rogers' overhaul of green surrounds on The Preserve solved this problem in terms of agronomics, aesthetics and playability: "In the 1990s, the style was to bring that rough right up to the green edge. The penalty for missing that putting surface was severe. At the same time, folks who joined this club in the 1990s are a little older today. This is the demographic movement taking place today at Quail West and so many other clubs in Florida. These greens today cannot feature so many penal edges, so many forced carries. They need bailout areas with closely mowed chipping areas to allow more of a variety of flopping, chipping and putting recoveries. When The Preserve reopens in December, the members are going to notice these varied forms of recovery right away."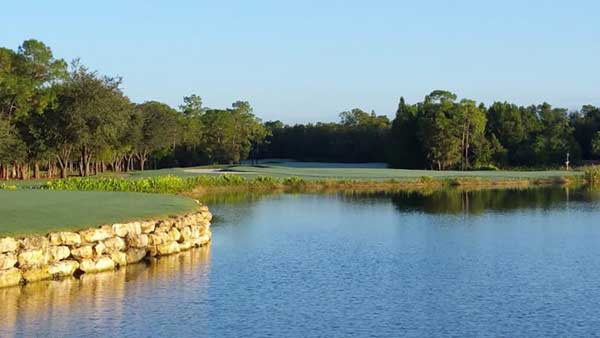 Rogers also revamped the entire tee system at Quail West, lowering and enlarging many tee platforms where needed while adding a second forward set that measures between 4,400-4,500 yards. The existing forward tees are 5,100 yards plus.
"The practice facility has become one of the primary drivers of golf usage here in South Florida," Rogers said. "Members increasingly hang out with their buddies, have lunch, hit balls and may not even necessarily go out on the golf course. That's the trend we see. Here the demographic isn't getting older — it's getting wider. Younger golfers wouldn't dream of joining a club that didn't feature fully fledged practice facilities. The Preserve now serves that wider group of golfers and soon the Lakes Course will, too."
The superintendent at Quail West is Mark Black, CGCS.
Photos: Quail West