Politics & Golf, or how I helped elect a Clinton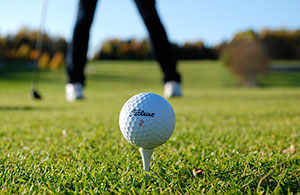 It was 1992. "Drug-Free Workplace" was the catch phrase. Space shuttles still flew. The Dow was at 3,200 and gold was $345/oz. Bill Clinton and Al Gore were running against President George "41" Bush and Dan Quayle. Look it up, Millennials.
Gore and Quayle had some great TV debates. Gore was talking "change" and Quayle was calling Gore and Clinton "liars." Sound familiar?
I was working at Alaqua Country Club in Longwood, Fla., which hosted high-end outside events. In '92 it was a Republican fundraiser featuring Quayle. For $1,000 per person, a foursome would play one hole with the VP. He would play the course in proper sequence. My assistant John Kopack (code name Squirrel) and I (code name Fox) were to escort foursomes to and from the VP. Yep, think of something that rhymes with "rusty truck."
Director of Golf Gary Ellis, MPGA, was nervous, and should have been. He exchanged a logoed shirt the GM had picked out for the VP for a different shirt. So instead of the club getting some press, "BOHICA" discreetly was on the left sleeve. When Quayle showed the owners he told them it stood for "Bend over, here it comes again." (Old Army term, I'm told). Owners hated it, VP loved it, and off we went.
The scramble took six-plus hours with 72 golfers. Getting foursomes to the right place at the right time barely worked (rusty truck). So much security everywhere.
At the end, handshakes were exchanged, photos taken and there was a big sigh of relief. As the Secret Service is briefing the VP, he tells the lead agent he wants to go to the Orlando Magic game that evening, and that he is going to play more golf with Gary, me and his good friend Randy. The agents listed several reasons why these were not good ideas. They lost. Rusty truck.
So Gary and I were now playing golf with the vice president! The game was a modified alternate shot; the wager was a buck a hole. I have to share Gary's clubs and play barefoot. We start well when I roll a birdie on No. 1. On No. 2, a 160-yard par 3, we end up using my shot on the approach short of the green. Gary steps up and blades it… into the hole! Two up. The VP was not happy, kind of like when he was debating Gore.
Secret Service was everywhere, in golf carts, Suburbans, vans and Crown Vics. The agents in carts were over the top. We couldn't get within 40 feet of the VP's cart, but I could stand right next to him on the tee. With a club in my hand!
On every hole the lead agent reminded the VP, "They are ready for you in the clubhouse, sir." And on every hole the VP said, "One more hole." That went on for about an hour.
By then we had lost a couple and halved two holes; all square on the 6th tee. This would be our last hole, for $1 and bragging rights. No drama, just another chip-in. This time it's me! They pay up, and it's off to the clubhouse to find an extremely angry crowd. They collectively paid more than $80K to play with the VP. Gary made sure the crowd knew exactly what happened when he showed them the dollar bill the VP had signed. I love that guy. The VP spoke for a few minutes, and then he was off to interrupt rush hour traffic on I-4 for about 15 miles. Rusty truck.
The rest is history. Clinton and Gore win the election that year. I'm not convinced the events that day changed the Orlando area from red to blue; things have happened since then. We had a great day, got a great story to tell…even if I helped elect Bill Clinton. #justsaying.
Photo credit: Tord Sollie via Foter.com / CC BY-NC-ND
Kelly Limpert is the former digital media content producer for North Coast Media. Limpert completed her undergraduate degree at Ohio University where she earned a Bachelor of Science in Journalism from the E.W. Scripps School of Journalism. When she isn't creating content for Golfdom's digital and social media platforms, you can find her working for Landscape Management.