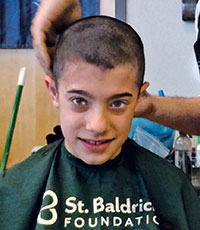 There are very few things our 11-year-old son Nate doesn't like. He's an easy-going kid, happy doing just about anything. There's only one thing he always fights: haircuts. He hates to have his hair cut like nothing else.
That's why we were shocked when he came home from school and told us he'd volunteered to have his head shaved at a charity event to raise awareness and funds to fight cancer.
Nate doesn't have much to give. At the first opportunity, he gave — for grandpa Joe (aka GoGo), my father-in-law.
After spending a month in the hospital, last March GoGo was diagnosed with non-Hodgkin lymphoma. We told our three kids, "GoGo is very sick. He has a disease in his blood."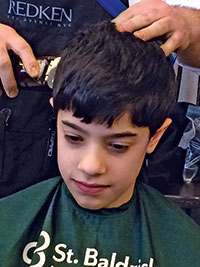 We didn't want to use the "C" word around our kids. We didn't want to scare them, especially Nate. GoGo's very close to Nate, his first grandchild. GoGo lives out of town, but is a regular part of Nate's life. He calls Nate every day. Every day.
Nate's about-face on haircuts taught us parents a few things: He knows more than we think he knows, letting us live in our fantasy world; and his heart is every bit as big as we suspected.
GoGo is in remission and doing well. He went from being hospitalized for months, enduring several rounds of chemo, to playing several rounds of golf — four days in a row recently. My dad, who battled prostate cancer years ago, also continues to be a regular on the course as well, at 81.
At North Coast Media, we're doing our part to give back by donating a portion of our revenue this month to cancer research. It's a new initiative we plan on doing every October to coincide with Breast Cancer Awareness Month. Also, all six of our publications are proudly wearing pink this month.
Because the way we see it, it's our turn to give.