Nebraska-based golf investment company buys Dormie Club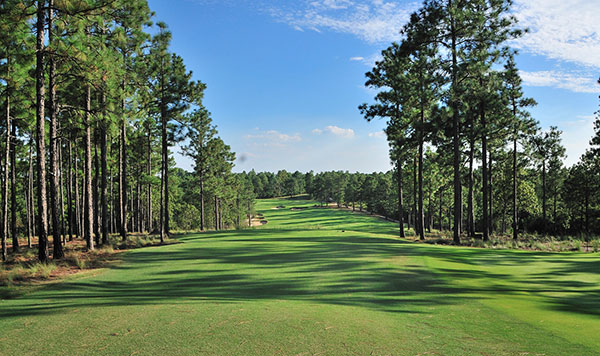 Dormie Club, located in Pinehurst, N.C., has been purchased by Nebraska-based golf investment company Hainoa. Under new ownership, the Coore-Crenshaw club will see a number of immediate renovations and upgrades, including the construction of a new clubhouse, halfway house, and on-site lodging accommodations, as it gradually returns to its original status as a private course.
The  2010 opening of Dormie Club was met by rave reviews, including a No. 3 ranking in Golfweek's list of best new courses. Designed by Bill Coore and two-time Masters champion Ben Crenshaw, the 18-hole course features 110-foot elevation changes, three natural lakes, and an aesthetic that draws inspiration from the Scottish Highlands.
"Dormie Club stretches across a massive 1,020-acre expanse of absolutely stunning land," said Dormie Club's Membership Director Mike Phillips. "It features a mix of pine trees and hardwoods and the beautiful 55-acre Coles Mill Lake that dates back to the early 1900s."
Its Old World-design includes a number of reachable par fours, wind tunnels, bunkers positioned to stimulate creative strategy, and a 241-yard reverse Redan par three. The course features Bermuda fairways and tees with bent grass greens; it has five sets of tees and measures up to 6,883 yards with a rating of 73.7 and a slope of 138. It is currently ranked No.3 among the best courses you can play in North Carolina by both Golf Magazine and Golfweek and the 12th best course in North Carolina by Golf Digest.
Straying from its original concept, Dormie Club extended play to non-members almost immediately after opening and today remains a public course. As part of the Dormie Network, it will transition immediately from public to semi-private and eventually to private status with invitation-only membership by 2020.
Now under the management of Landscapes Unlimited, Dormie Club will see a number of critical course enhancements, as well as several large-scale renovations and improvements. Plans to construct a full-service clubhouse and halfway house are already underway. Landscapes Unlimited will also oversee the addition of lodging accommodations, including on-site cottages and executive suites.
"Dormie Club is a truly exceptional club that was conceptualized as and designed to be a high-end private course," said Zach Peed of Dormie Network. "Our vision is to make it one of the finest pure golf destination courses in the region."
With the acquisition, Dormie Club joins the ranks of Briggs Ranch Golf Club in San Antonio, Texas; ArborLinks in Nebraska City, Nebraska; and Ballyhack Golf Club in Roanoke, Virginia as part of the Dormie Network. Corporate and national memberships include access to and full member privileges at all courses within the network — each of which is currently ranked among the top 10 in its respective state.
"Dormie Club is a renowned course," says Peed. "It's already a tremendous value to our current and future members, but the club's incredible potential and the vision we have for what it can be make it an ideal addition to the Dormie Network."
Photo: Dormie Club