Mike Kenna, Ph.D., shares resources for water management on golf courses
Among the USGA Green Section Collections is a comprehensive resource that addresses water management on golf courses. With a range of articles, guides and multimedia materials, this collection equips golf course professionals with valuable insights and strategies to optimize water use, conserve resources, and enhance the course's overall quality.
Irrigation systems are a focal point of the collection, emphasizing the significance of preventive maintenance. The article, Developing a Preventive Maintenance Checklist for Golf Course Irrigation Systems stresses that proper upkeep reduces labor and material costs and contributes to water and energy savings while improving the quality of the playing surface. A similar article, When Is It Time To Replace An Irrigation System? underscores the importance of cost considerations in the decision-making process regarding system replacement.
The collection explores water management, offering guidance on identifying precise soil moisture status, emphasizing the need to irrigate for playability and turf health rather than just aesthetic appearance. Water, Water Everywhere! highlights the costly consequences of tangible and intangible overwatering and underscores the importance of responsible water usage in the 21st century.
Turf reduction is another critical aspect discussed in the collection. Less Turf + Less Water = Less Cost demonstrates how preparing a turf assessment plan can lead to cost savings while maintaining course quality. A turf reduction template provides practical guidelines for achieving these goals.
Understanding water sources is crucial for sustainable golf course management. Golf Course Irrigation—Where Does It Come From? explores the varied irrigation water sources. In contrast, A Step-By-Step Guide For Using Recycled Water outlines the costs and maintenance practices required to utilize this valuable resource effectively.
The collection also delves into research milestones of the USGA Davis Program, highlighting the organization's commitment to advancing scientific knowledge in golf course management. These resources provide accessible insights into water conservation techniques.
In summary, this USGA Green Section Collection provides golf course superintendents with a wealth of information and practical tools to manage water resources effectively, reduce costs and ensure the long-term sustainability of their courses while upholding playability and turf health.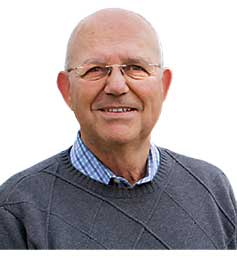 About the Author: Mike Kenna, Ph.D.
Mike Kenna, Ph.D., is the retired director of research, USGA Green Section. Contact him at mpkenna@gmail.com.