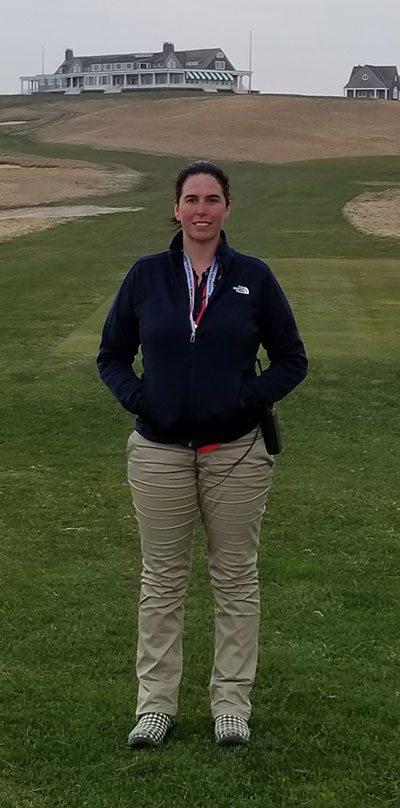 Lindsay Brownson, assistant superintendent at Shinnecock Hills Golf Club, hails from Syracuse, N.Y. where she first got her start in the golf industry. Brownson's two older brothers, who worked at a local golf course, inspired her to pursue the industry back when they were in high school.
"They always came home with stories and I was like 'Oh, I want to do that!'" recalls Brownson. She applied to work at the golf course her brothers worked at, but was turned down since her two brothers were already working there.
She wound up going down the street to work at another golf course, Arrowhead Golf Course in East Syracuse, N.Y. Brownson started out as a cart girl who also found herself string trimming and mowing from time to time. In her second season, she was moved from the course to the clubhouse, where she worked in the snack shop and handled greens fees.
After she graduated high school, Brownson moved on to Alfred State College, where she obtained an associate degree in architectural engineering in 2008.
Still feeling the pull of the golf course, she worked at Green Lakes State Park Golf Course during her summers at home. This time, she had the opportunity to do more turf work. "Dino (the course manager) got me more involved out there, from cutting cups to mowing greens, mowing fairways and everything else," Brownson explains.
One year later, Brownson went back to school, attending the State University of New York College of Agriculture and Technology at Cobleskill, where she obtained her bachelor's degree in turf and turfgrass management. After a few years of internships and jobs at different golf courses, she found her way to Shinnecock Hills Golf Club in April 2016.
Even with the experience of working 14 hours a day at other courses, Brownson finds the work at Shinnecock different.
"It's challenging. I come from a background of a wide variety of golf courses, but nothing this extreme," she says. "This just seemed like a whole other level. It definitely challenges you on a professional level and a technical level. It's just a whole other ballgame here."
The challenge of working at Shinnecock Hills is something that Brownson enjoys, however. During the U.S. Open, Brownson will be working with Ana Alvarez — the maintenance team coordinator — on monitoring personnel and supervising the back nine.
Even during this busy time, Brownson loves maintaining and being on the course. She even has a favorite part of the course: No. 6, a 491-yard, par 4.
"As the sun starts to come up, I start taking pictures on my phone," she says. "The views here, especially if the mist is coming off the ocean, are just so scenic."
As interviewed by Seth Jones, written by Dillan Kanya. Photo: Seth Jones