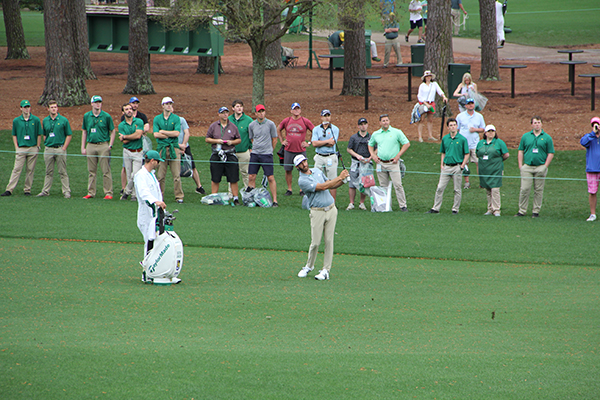 Dustin Johnson's popularity ranking takes a hit. He's only the No. 3 choice to win the 2019 Masters, after being Golfdom readers' top pick to win the 2018 PGA Championship. (Photo: Seth Jones)
The 2019 Masters is finally upon us and we want to know who you think is going to come out on top. At stake? A sweet prize from Augusta National Golf Club.
Preliminary predictions are in, and we are in for one heck of a tournament, judging by the comments on our Twitter and Facebook feeds. The clear favorites emerging among the submissions? Former winners Jordan Spieth and Tiger Woods, along with stars Dustin Johnson, Rory McIlroy and Tommy Fleetwood.
Top 5, as voted by Golfdom readers
Rory McIlroy: 52
Tiger Woods: 32
Dustin Johnson: 26
Rickie Fowler: 22
Tommy Fleetwood: 18
The most popular pick, and Vegas favorite, is McIlroy — 52 of you think he will be donning the green jacket come Sunday. McIlroy has the momentum, coming off a Players Championship win in March.
Twenty votes behind McIlroy is Woods. If he does win, it would be his fifth time and first since 2005. That's right, the last time Tiger won, YouTube had just been invented, Star Wars: Episode III was the most popular movie and Mariah Carey topped the music charts. Even after tying for 32nd last year, he's feeling confident — as are many of you — that he'll be victorious this year.
A very close third in Golfdom reader picks is Dustin Johnson, who 26 of you think will be the 2019 Masters champion. Either Johnson has taken a dip in popularity since August, when he was the Golfdom-reader favorite for the PGA Championship, or we're being pragmatic and taking a page from the Vegas playbooks, where he is a distant second to McIlroy. But hey, Johnson finished in the Top 10 the last four PGA Tour events he's participated in, and won the WGC-Mexico Championship back in February.
There were a couple of surprise picks as well. One reader thinks long shot Kiradech Aphibarnrat from Thailand, who has one Top 3 finish this year, is going to walk away as Masters champion. Only two have faith that Justin Thomas, who is tied for fifth favorite in Vegas with the likes of Spieth and Rickie Fowler, is going to win it. No one thinks that Patrick Reed can recreate his April magic from last year and repeat as champion.
As for our resident golf pro and new guy on the block here at Golfdom, James Webb is predicting that the Italian Francesco Molinari is going to come out on top. "He has experience winning a major — the 2018 Open Championship — which I believe accompanied with his talent and attitude, will propel him to become the 2019 Masters champion." Twelve of you agree with Webb, who was a PGA Associate at Red Tail Golf Club in Avon, Ohio, before we were able to steal him away.
As of end of day Thursday we had 135 votes and Rory McIlroy was the still the top pick to win. Stay tuned to find out the winners.
Time for our first #TheMasters giveaway sponsored by @SyngentaTurf! A prize from the ANGC pro shop awaits one lucky winner. To win, reply to this tweet w/ 1) TWO picks on who wins the green jacket 2) your favorite Syngenta product to help your course #ConditionPerformRecover. GO! pic.twitter.com/Lmvpmnmz8E

— Golfdom (@Golfdom) April 8, 2019
We'll post the results as soon as we know them Sunday. Good luck to everyone and thanks to Syngenta for sponsoring the contest!