Just another day in Superintendent Paradise
507 1-on-1 meetings
40 superintendents
18 holes of golf
15 boardroom presentations
… and 1 hot air balloon flyover
Now going into its eighth year, the Golfdom Summit annually brings roughly 40 superintendents from around the country to meet with 15 vendors. The format allows vendors to make a single boardroom presentation to the group, then follow up with one-on-one meetings with superintendents over the following two days. (Of course, there's always golf, a barbecue, a keynote speaker and a little education thrown in for good measure.)
"The Golfdom Summit is second to none, a can't-miss opportunity. Anyone who gets the opportunity to attend, I couldn't imagine them passing it up," said Jared Milner, superintendent at Meadowbrook CC, Northville, Mich. "I'm a little upset I can't attend it next year."
And there's the rub. While attendees love the meeting (this year, 92 percent of superintendent attendees rated the event "excellent"), the one knock on the event is that we can't bring every reader to experience this one-of-a-kind opportunity for themselves. So, we try our best to bring the Golfdom Summit to readers via this feature, outlining the key ideas and takeaways presented to superintendents.
To learn more about the Golfdom Summit and to apply to attend a future Summit, visit GolfdomSummit.com.
Turfco
"Topdressing is kind of an art form-slash-science experiment," said Scott Kinkead, executive vice president of Turfco. "We've got to make sure we're not giving something to these superintendents and saying, 'Good luck, go figure it out.'" Turfco's WideSpin 1550 topdresser and Torrent 2 debris blower include features that aim to minimize guessing and make quick work of maintenance.
Turfco Regional Sales Manager Chris Francis spent the better part of two days on Reunion Resort's driving range showing off the WideSpin 1550. Francis explained that the major advantage of the topdresser is being able to preset your applications and change them on the fly to get an even, consistent spread, without having to get off the machine and do mechanical changes.
In the boardroom presentations, Kinkead compared using the topdresser controls to using your car stereo, hitting a button for your approaches, or another for your greens.
When it comes to blowing debris, Kinkead described observing operators on courses with the blower at full blast with the nozzle angled up between jobs. "You got them beatin' the band, blowing birds out of the sky!" he said with a laugh. The Torrent 2 blower includes an idle resume button that prevents wasted time and gas, allowing the blower to idle down and resume power immediately.
The Torrent 2's MagnaPoint feature allows superintendents to set the optimal angle on blowers for various types of debris. Kinkead explained that the angle being off by 15 degrees or more could add two hours or more to the workday. Luckily for Summit attendees, Turfco offered two solutions to help crews get that time back.
Frost Inc.
Accuracy also was on the minds of Summit attendees, and a guided spray control system was one of several products at the event that incorporate GPS technology to help superintendents. Frost Inc.'s Seletron spray control system offers individual nozzle controls and variable speeds and rates, and aims to prevent overspraying and conserve chemicals.
"Superintendents are recognizing that accuracy in spray applications is very important, especially with their plant growth regulants," said Ken Rost, president and CEO of Frost Inc. "If they're getting overspray with their traditional sprayers, they're burning out collars and the intermediate areas between applications."
Between demonstrating the sprayer and the Ultimix, a powerful chemical premix station, the Frost representatives saw plenty of traffic during the Summit. In the demo area, superintendents had a chance to check out the GPS user interface and see for themselves how GPS can help them apply chemicals more accurately.
Rost hoped that GPS technology can help with another turf industry concern: labor. "Golf courses now are getting younger, more inexperienced help, and they don't have a lot of confidence that everything's getting done the way it should be," said Rost. "This really helps (superintendents) to dummy-proof a little bit and offer a way to train those spray operators."
Pogo Turf Pro
For companies such as Pogo Turf Pro, the Summit was an opportunity to dispel some misconceptions about their product.
"A lot of people assumed it was just a moisture meter," said Carmen Magro of Pogo Turf Pro. He explained that once the Pogo Pro sensor is stuck in the turf, it provides much more information than a moisture reading — it measures salinity and canopy temperature, integrates weather information and includes precision GPS to pinpoint problem areas in the soil. The sensor and its accompanying cloud-based app allow users to map and analyze the soil conditions all over their courses.
Magro admitted that some superintendents were overwhelmed by the brief boardroom presentation that introduced them to the product, but once they received a rundown of Pogo's capabilities in their one-on-one meetings and were able to ask questions about using it on their courses, the superintendents realized the system's simplicity.
Though Pogo has been on the market for a few years, the company recently integrated drone imagery as an added supplement to the data. The Pogo app allows the user to layer a drone image over an existing data map of soil conditions for a complete picture of the course's turf quality.
"I think it's important that superintendents know I walked in their shoes for 15 years," Magro said. "This is not meant to be a data tool, it's meant to be a solutions system. It's about making decisions with this information."
Lebanon Turf
Several turf and ornamental companies saw the event as an opportunity to roll out new programs. The Golfdom Summit was proud to host the debut of Lebanon Turf's True Performance fertilizer program, which features a combination of the company's Country Club MD granular fertilizer and its Emerald Isle liquid fertilizer, intended for use on putting greens.
Chris Gray, golf marketing manager for Lebanon Turf, explained that based on two years of studies at the University of Arkansas and Purdue University, the combination of these two products has provided great results.
"We're trying to build a fertilizer program that's not based on our marketing, but one that's based on what university scientists have identified as very effective, so superintendents can provide the best putting surface all season long," said Gray. Lebanon offered 15-pound sample bags of Country Club MD so attendees could try the product for themselves. Superintendents who complete at least 10 out of 15 scheduled applications also qualify for a 10-percent rebate on the products for the entire program.
Gray enjoyed meeting with superintendents from all over the country and learning about their challenges. "It's a very good cross section of superintendents," he said. "It was a neat experience to find out who uses our products."
Nufarm
The 2017 event marked the fifth time that Cam Copley, golf national account manager, has represented Nufarm at the Summit.
Between the plant growth regulator Anuew, Pinpoint fungicide and Celero herbicide, this was the first year that Copley could offer a solution for all superintendents, regardless of their course's location.
"My No. 1 conversation topic right now is about Anuew, that's the product that people have the most questions about," says Copley. "That's probably 80 percent of our conversations now." Copley said that Anuew contains prohexadione calcium, a new active ingredient with a novel mode of action. It reduces turf growth and mowing frequency and improves turf quality, density and appearance.
Also popular topics for Copley were Pinpoint fungicide and Celero herbicide.
"It's nice to essentially have three new products to talk about," Copley said. "I go through the checklist, and if they're from Montana, then we have a solution for them, and we have something for somebody in Florida. Before, we might not have something that worked for them. We have such a good offering now that we can find something to talk about with everyone."
SipcamAdvan
SipcamAdvan services the golf industry by producing, distributing and marketing plant protection products. The Italian-owned company had a unique mission at the Summit: Rather than selling product, they used the event as a focus group to find out superintendents' impression of Sipcam to assist with marketing efforts.
"We're trying to reintroduce ourselves to superintendents," said Michael Maravich, vice president of specialty business for Sipcam Agro USA. "This is the perfect opportunity for us to meet with 40 of them face to face who we would never get at other trade shows. Most of these superintendents don't recognize the Sipcam name, but they recognize a product they've been buying forever. It's brought us a lot of credibility in these conversations. It's really about introducing them to who we are, what we're doing and how we can help them and be more a part of their business moving forward."
Maravich said the feedback he got was "98 percent favorable," and that he and his team were narrowing the strategic vision of the company based on those results.
"Our strategy is to open ourselves up to the industry a bit more," Maravich told Golfdom. "We've always been kind of behind the curtain, and we're trying to come out from behind that to show people who we are and what we've done for a long time."
Smithco
The Golfdom TV cameras were rolling all week at Reunion Resort, and a common topic in those interviews was how impressed the attendees were with the sprayers at the Summit.
"Everyone that came to our booth, that was their No. 1 priority," says Emil Miller, Smithco's marketing manager. "They were there talking about their current purchases or their future purchases and about GPS technology."
The Star Command 2.0 features technology from TeeJet Technologies. The GPS sprayer can control droplet size for greater efficacy, independent of rate or speed, and can spray from 2 mph up to 10 mph.
But the Star Command wasn't the only star of Smithco's show. Attendees also were eager to see the company's fairway rollers.
"This isn't a passing fad by any means, they're seeing the value about fairway rolling," Miller said. "They can see the value in their day-to-day processes on their greens, and it's being replicated on our fairways. It's already becoming a part of their weekly routine. Whether it be a couple of times a week or once a week. Fairway rolling and spraying go hand in hand because of the disease suppression you get from rolling the fairways. I think that's why those were the two hottest items we had."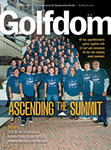 Did you see some familiar faces on the cover of the February issue? Here's a guide to who's who.
Photos: The Golfdom Staff, including Seth Jones, Abby Hart and Grant B. Gannon