John Deere's rotary rough mower wins AE50 award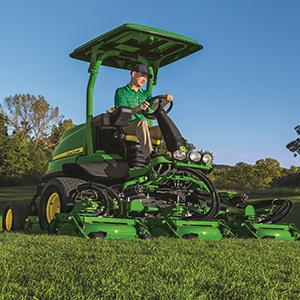 The American Society of Agricultural and Biological Engineers (ASABE) awarded the John Deere 9009A TerrainCut Rotary Rough Mower with an AE50 Award. AE50 celebrates the year's most innovative designs in engineering products, as chosen by a panel of international engineering experts. This is the second consecutive AE50 win for the John Deere A Model Family of Fairway, Rough and Trim & Surrounds Mowers.
Launched in early 2016, the John Deere 9009A maximizes both productivity and cut quality while giving turf managers more control of performance on the course. Its five-gang, 27-inch (68.58 cm) independent rotary deck mower with a 9-foot (2.7 m) cutting width provides all-day productivity, which is needed for golf course rough mowing.
"The 9009A was designed with our customer's needs for productivity and cut quality in mind," said Tracy Lanier, manager, Product Marketing , John Deere Golf. "It's this customer-driven approach to product design that inspired many of the advancements featured in this machine and the entire A Model line, and we're honored to be recognized."
The AE50 awards program is sponsored by the ASABE's magazine, Resource: Engineering & Technology for a Sustainable World, to emphasize the role of new products and systems in bringing advanced technology to the marketplace.
This year marks the fifth time John Deere golf products have been recognized in the AE50.
Photos: John Deere