John Deere Golf: 7200A PrecisionCut trim and surrounds mower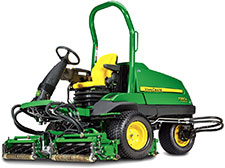 With the launch of the A Model line, John Deere has taken the key features of its rough, trim and surrounds mowers and added elements of improved technology for better equipment management and consistent cutting results. The 7200A PrecisionCut trim and surrounds mower has an exclusive width-on-demand system, so operators can change between widths of cut on the go with the simple toggle of a switch. It has a Reach Trimming System which allows the operator to extend either the front-left or front-right cutting unit up to 14 or 20 inches.
These features are combined with A Model technology updates, including the TechControl display which gives superintendents the ability to program mowing, turning and transport speeds.