John Deere becomes official partner of The Solheim Cup at Gleneagles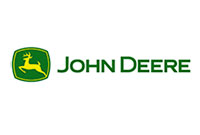 John Deere is confirmed as the latest partner to commit to The Solheim Cup at Gleneagles, taking place Sept. 9-15, 2019.
John Deere will be the official golf course and turf maintenance machinery event partner at Gleneagles for the 16th edition of the biennial match. The John Deere brand has a long association with professional golf having been a title sponsor on the PGA Tour, official supplier to the PGA Tour for 25 years, official supplier to the Ladies European Tour and a partner at numerous Solheim Cup events.
In addition, John Deere is also the partner of choice for Gleneagles, where they exclusively provide golf course maintenance machinery and equipment across all three golf courses.
John Deere's partnership at the 2019 Solheim Cup will include on course branding, display of John Deere products in the Spectator Village and using the association and event collateral for customer promotions and incentives at dealerships worldwide.
"The Solheim Cup is one of the biggest events on the 2019 sporting calendar and we are delighted to be a part of it," said Carlos Aragones, John Deere European turf sales & marketing manager. "We are very proud of our history of collaborating with major golf events and our association with both the Solheim Cup and Gleneagles are very important to our brand. The countdown is now on and we are very much looking forward to next year's event."
Scotland's Sports Minister Aileen Campbell said, "John Deere is a global company and an innovator in their field, and their partnership with the 2019 Solheim Cup is evidence of the significant international pull that both Scotland — the home of golf — and the Solheim Cup have in the sporting world. We look forward to working with them and our other partners to stage an outstanding event."