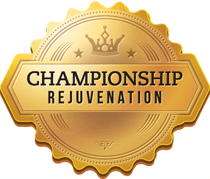 This year, five golf courses are participating in the "Championship Rejuvenation" program where superintendents put various BASF products to the test. In this article, we get an update from two of the five superintendents who are four months into their treatment programs.
Experience, Preparation Helps Ease Recovery from 'Harvey'
It's hard to imagine what it must be like for a Superintendent to watch a natural disaster like Hurricane Harvey wreak havoc on his golf courses – let alone the entire community and region. Especially after going through two flooding events just last year.
That's what happened to Champions Golf Club Superintendent Chris Ortmeier, who watched the hurricane pound the region for more than a week this summer. By the time Harvey moved out, nearly 90 acres of the golf course were under water. Six greens were completely submerged, and three additional greens were partially submerged.
"Having gone through two floods last year, we were prepared and it paid off this year," Ortmeier says. "Prior to the storm, we were able to collect all the course supplies and shut off power to the irrigation pump station and field controllers. By removing the major electrical boards from the controllers and powering down the pump station, we avoided any costly repairs to the most expensive components of the irrigation system. All of that prep paid off huge."
Unbelievably, the Jack Rabbit course opened three days after the storm, and the Cypress course re-opened 10 days after the rain stopped, except the 13th hole. While Ortmeier says the courses are not 100 percent back to pre-Harvey shape, they are prepping for Member Guest in October, and will be hosting the recently announced relocation of the U.S. Women's Mid-Amateur in November.
Ortmeier says that spraying Honor® Intrinsic® brand fungicide from BASF prior to aerification has helped him avoid any setbacks during recovery. He adds that doveweed has been an ongoing challenge, and the application of Tower® herbicide — a broad-spectrum preemergence herbicide — and Pendulum® AquaCap herbicide on the Cypress rough helped substantially with mid-summer doveweed management.
As part of his program with BASF, Ortmeier also has been using Lexicon® Intrinsic® brand fungicide, the broadest spectrum turf fungicide. "I am pleased with the results of the Lexicon application on our recently sprigged chipping green," he reports.

With the ongoing threat of flooding, Ortmeier and his team have their work cut out for them as they work toward maximizing conditions leading up to the 2020 U.S. Women's Open.
Early Treatments Helping During Dry Spell in West Virginia
While hurricanes have been soaking the Gulf Coast states, things have been a bit different for Josh Pope, Superintendent of Greenbrier Old White TPC in West Virginia. In fact, he is in the midst of a more than 30-day stretch without rain – and hotter than normal temperatures. So far, the course has held up amid heavy play, including hosting the 2017 Greenbrier Classic in July.
Pope has also found success with Lexicon® Intrinsic® brand fungicide, with only a few spots of summer patch showing up in some rough that was not treated.
"Lexicon has performed exceptionally well, as we have still yet to see any problems on playing surfaces and our 24-inch bluegrass belt loop," he says. "I have seen a longer residual benefit as well. I haven't had to make any unscheduled or emergency sprays this year."
Pope says he is also happy with how well Xzemplar® fungicide has done keeping dollar spot away. And he's sure it is working because the only place he saw a few signs of dollar spot were along a couple of tee edges which were likely due to sprayer skip.
"We've got a bit longer to go, but what I'm seeing here is that the early applications of these BASF products have set me up for protection throughout the season," Pope says. "We've had basically no issues with summer patch or dollar spot at all."