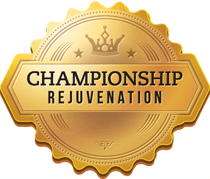 This year, five golf course superintendents are participating in the "Championship Rejuvenation" program where participants put various BASF products to the test. In this article, we get an update from two of the five superintendents as their seasons wind down.
Who would think that just a couple of months after the unprecedented destruction from Hurricane Harvey, Houston-based Superintendent Chris Ortmeier would describe his golf course conditions as "phenomenal."
In a conversation in early November, Ortmeier explains that round one of stroke play for the 31st USGA Women's Mid-Am was underway, and the course conditions are excellent at Champions Golf Club.
"As of a couple of weeks ago, we are 100 percent recovered," he says. "As cantankerous as Mother Nature was in August and September, we've had nothing but favorable weather since, which has helped tremendously."
As the season changes, Ortmeier plans to apply Lexicon® Intrinsic® brand fungicide as a preventative measure for several fall and winter diseases – primarily take-all (a.k.a. bermudagrass decline). He has battled take-all in the past and says Lexicon is a great way to stay in front of it.
"I continue to be a huge fan of Lexicon for a multitude of reasons, but primarily its preventative control of numerous diseases," Ortmeier says. "It seems to consistently provide a positive turf health response." He adds that Honor® Intrinsic® brand fungicide worked well prior to aerification to help avoid any setbacks during the recovery efforts.
Ortmeier has also had to battle doveweed, which thrives in wet, warm climates. He says doveweed "is just blowing up," and he describes it as one of his biggest challenges this year.
He is using a combination of Tower® herbicide – a broad-spectrum preemergence herbicide – and Pendulum® AquaCap herbicide, a water-based formulation of the preemergent active ingredient, pendimethalin. He says he is pleased with the results and plans to work both products into his weed program next year.
"I'm very pleased with BASF, their products, and their support," he says. "They have been a huge help, and they continue to be one of the frontrunners in the industry."
Greenbrier Sees Late-Season Benefits from Earlier Sprays
Though not as severe, Josh Pope, Superintendent of Greenbrier Old White TPC in West Virginia, has also had his share of weather challenges in 2017.
In late summer, the region went nearly a month without rain. But in almost an instant, turf conditions went from hot and dry to cold and wet – quickly slowing down the growth of grass.
"Conditions are still great, although being wet, the course is playing a little softer and longer now," Pope says. "We recently hit our coldest temperatures of the year, down into the teens."
Despite the fluctuations, he reports that the course has remained relatively disease free – except for some lingering summer patch in roughs that were not treated, and an occasional sighting of dollar spot on tees.
Pope has been using a combination of Lexicon Intrinsic brand fungicide and Xzemplar® fungicide to keep disease at bay. "Both products are working great," Pope says.
As his season winds down, Pope has turned his attention to winterizing the course – mowing fescues, blowing out the irrigation system, and treating for snow mold. Looking back, Pope says he is grateful for the steps he took early in the season to keep disease away.
"I keep going back to the early- and mid-season sprays that kept us on top of our game," he says. "I think the residual effects of the BASF products during stressful times is really showcasing how good they are."