Hole of the Month: #16, Orange County National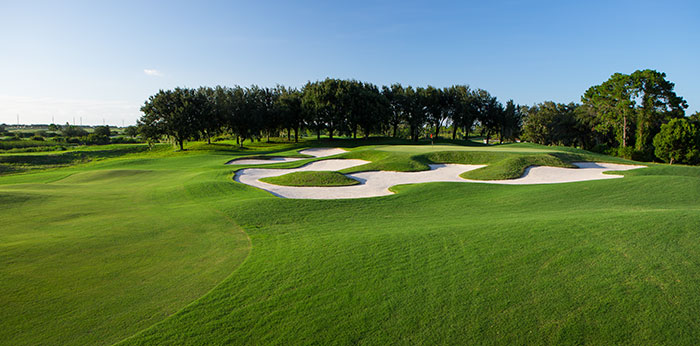 Hole 16
Orange County National
Panther Lake Winter Garden, Fla.
426 yards, par 4
Fairways bermudagrasS, Greens Champion ultradwarf bermudagrass
Orange County National Golf Center and Lodge was built 20 years ago as more than just a place for tourists and locals to play golf. The public facility houses several rapid infiltration basins, called RIB sites, that are used for filtering excess effluent water while replenishing water to the Floridian aquifer, an aquifer essential to the surrounding Florida orange industry.
Today the approximately 590-acre property is meant to be a one-stop location for golfers with two 18-hole courses, a 9-hole short course and a 42-acre circular driving range. It hosts around 100,000 rounds per year, with a majority of those being played from January until May, according to Superintendent Jason Morris.
"Currently, we're doing about 200 rounds per day on each of the 18-hole courses," says Morris. "After May is when we really get into our cultural practices. We'll go from may to September with that plan and then try to shift gear again in September before the season starts again."
With that many golfers, wear has been an issue for Morris during his four years at Orange County National, and there usually were some weak spots on the courses. To fight that decline, they rely on some of Syngenta's staples: Secure, Daconil, Briskway, Heritage and Velista.
Like many golf courses in Florida, Orange County National has to contend with nematodes. Morris says when he was approached about using Divanem, his first thought was, "Well, it can only help us." It's the first program designed to fight nematodes he has used, but it has done much more for the turf. Morris adds that the roots on the courses' greens are deeper than ever and the turf is denser than in years past. The addition of Divanem has been a part of that change.
"The greens are the best I've seen them since I've been here," says Morris. "Right now the proof is out there. It's pretty good."
Photos: Orange County National