Golfdom Gallery: 2017 U.S. Open edition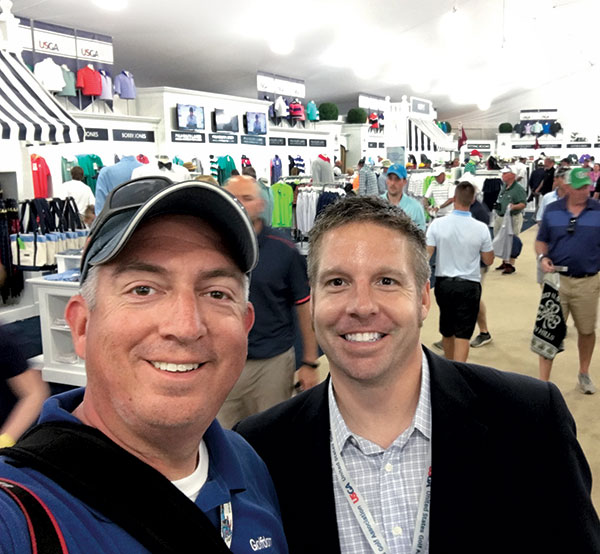 1. Shoppers anonymous Golfdom EIC Seth Jones ran into Justin Apel, executive director of the Golf Course Builders Association of America, at the merchandise tent at the U.S. Open. (If you ever see the two in matching U.S. Open golf shirts, now you know why.)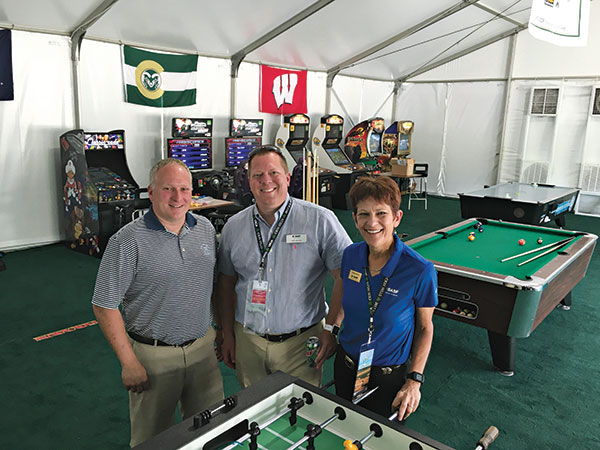 2. Game room (L to R) Steve Abler of Reinders Inc. and Jeff Vannoy and Eileen Sarro of BASF were diamond sponsors of the Erin Hills maintenance team. No, that's not the local sports bar in the background — that's the volunteers' game room!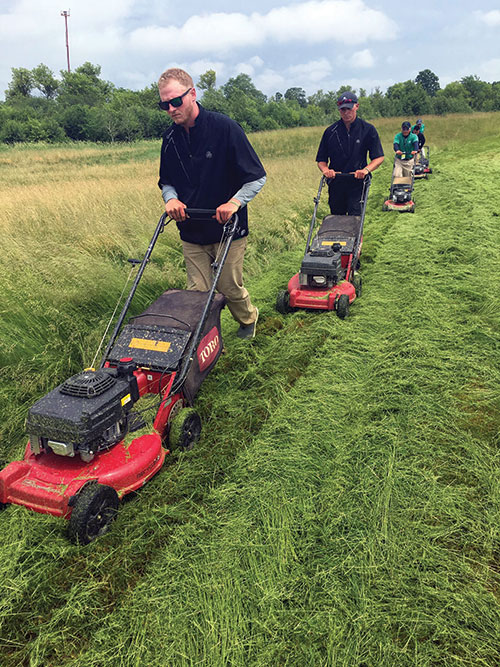 3. Walk the line It took the crew only about 30 minutes to mow down a swath of fescue rough that was knocked down by storms on No. 14 at Erin Hills. And it took Twitter only about 30 seconds to accuse the USGA of capitulating to player complaints.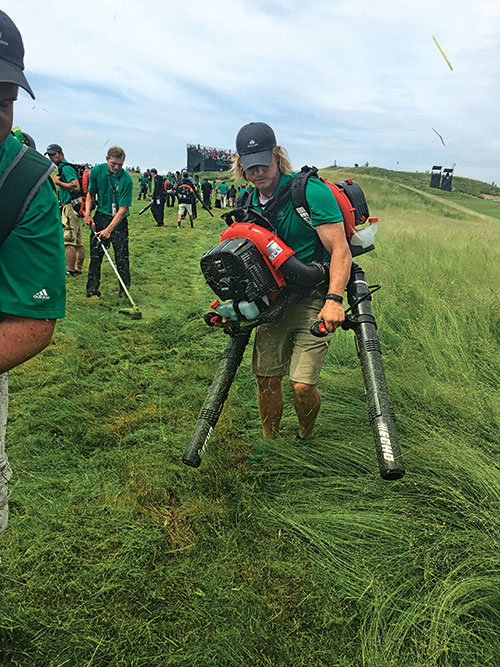 4. Big Cat on the doolies Brandon "Big Cat" LaMarche doesn't mess around. Not only does he "roll doolie" with the double-blowers, he also wears a weighted vest when he caddies at Erin Hills. #BeastMode.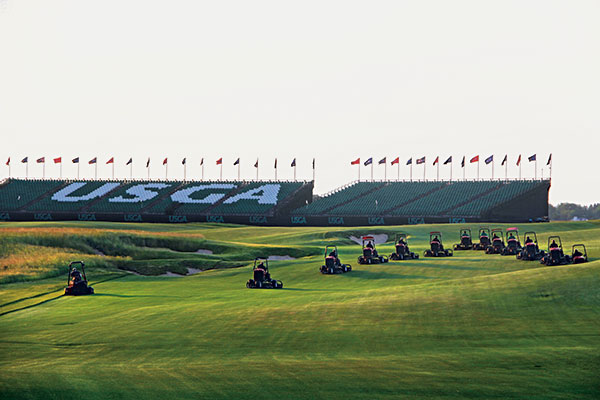 5. Dialing in 18 fairway No. 18 at Erin Hills measures 663 yards from the black tee. That's a pleasant ride for these 13 Toro fairway mowers.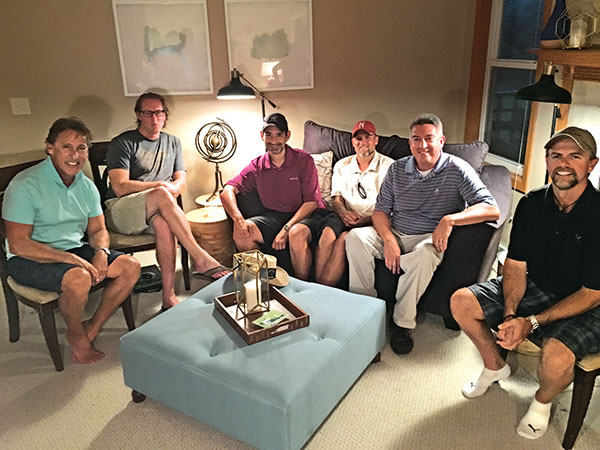 6. U.S. Open house party The party at Jason Straka of Fry/Straka Global Golf Course Design included good food, good conversation and of course, good beer. Left to right: Don Habenicht, VP of field operations, Professional Golf Services; Jarrod Dunlap, Business Development Officer, Samet Corp.; Straka; Derek Dirksen, shaper, Derek Dirksen Golf Shaping; Jones and Ashley Hoye, manager, Darby Dan Management Co.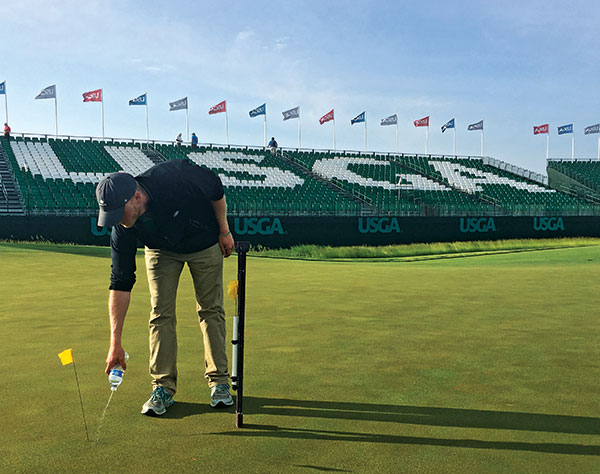 7. A drink of Dasani When it comes to the U.S. Open, it's all about the fine details. Erin Hills Spray Technician Kevin Hartenberger hits a single dry spot with a splash of bottled water.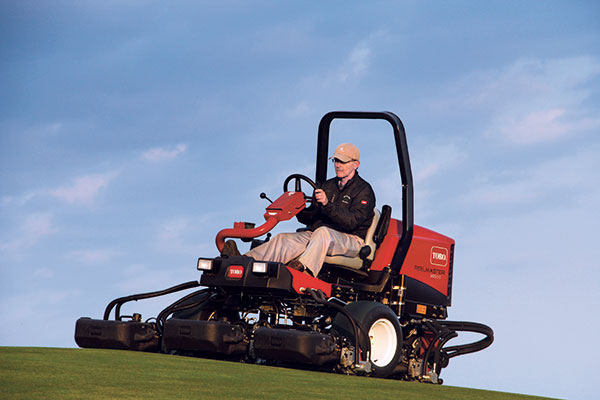 8. No shaking Kershasky There was no distracting Jerry Kershasky of Reinders Inc., who was on the fairway mowing crew. That's a Toro Reelmaster 3550-D he's masterfully operating.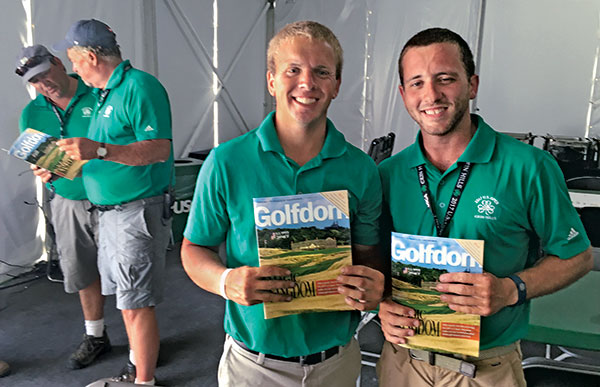 9. Loyal readers "Guys, what's your favorite magazine in the industry?" Erin Hills crew members Tommy Adair (center) and Avery Mansueto knew their answer right away. (Too bad we're losing Adair to the finance industry — best of luck Tommy!)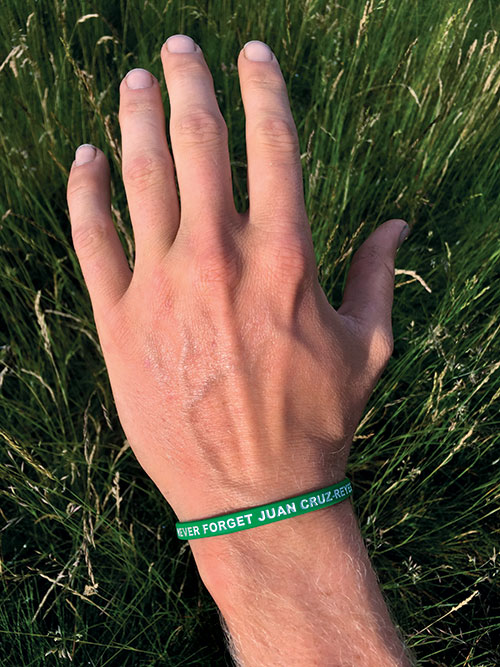 10. Juan to remember The Erin Hills staff and volunteer crew all wore these wristbands in remembrance of former Erin Hills Assistant Mechanic Juan Cruz-Reyes, who tragically passed
away just months ago.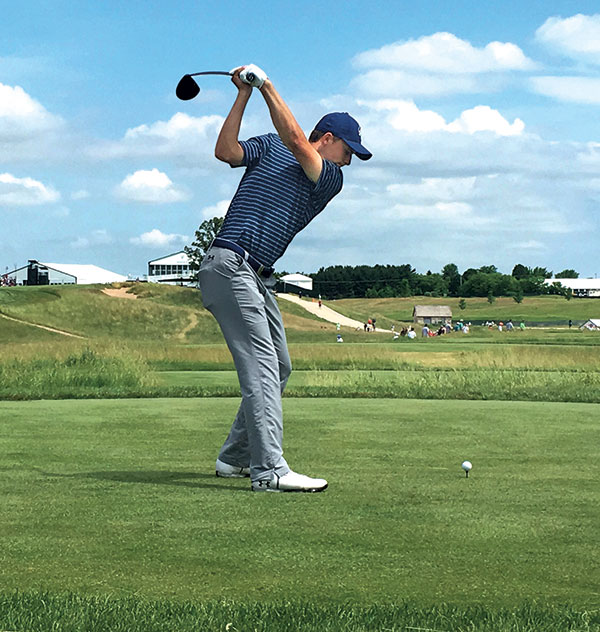 11. Knew I forgot something As Jordan Spieth lined up his drive on No. 10 during his solo Wednesday practice round, a young fan asked if he needed a practice partner. Without taking his eye off the ball, Spieth asked, "Bring your clubs?" and then grooved this drive down the fairway.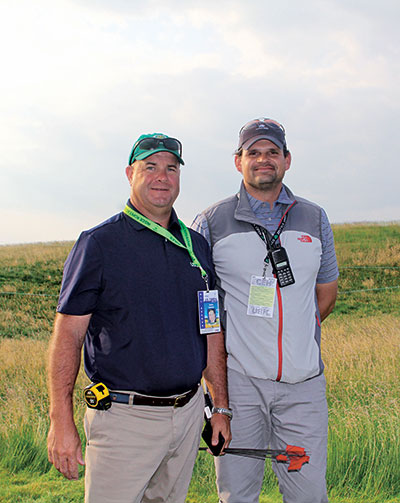 12. Act natural Darin Bevard, the USGA's Director of Championship Agronomy, and Zach Reineking, Erin Hills superintendent, do a good job pretending not to be busy. This was possibly the one moment the two both stood still during the U.S. Open. Glad we were there!
Photos: Golfdom