Golfdom Gallery: 2017 Presidents Cup edition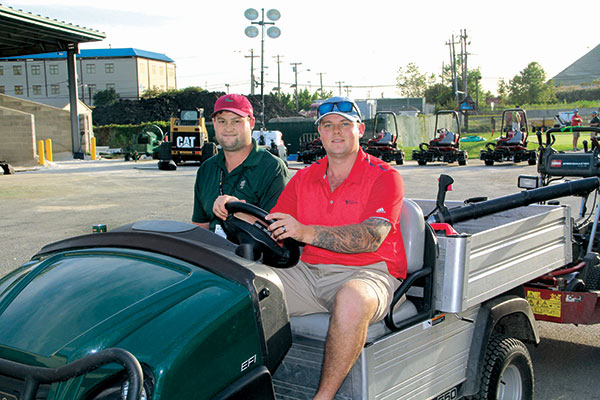 1. Cruisin' Liberty National Former Liberty National Golf Club interns Ryan Martin (left) of Indian Valley CC, Telford, Pa., and Blaine Knox, Palm Meadows GC, Carrara, Australia, were two of the dozens of former LNGC employees to come back to help maintain the course for the 2017 Presidents Cup.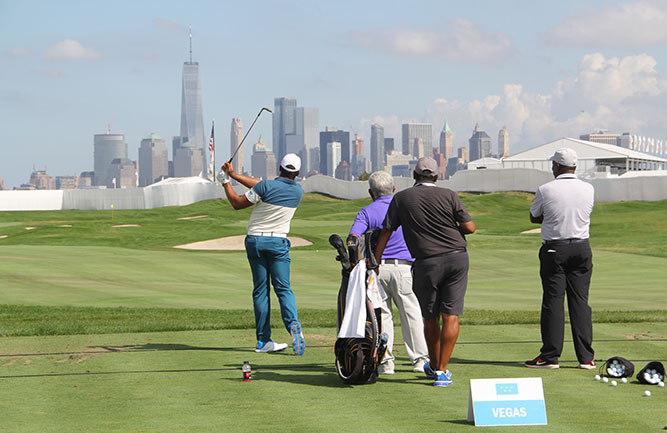 2. Vegas hits Manhattan International team golfer Jhonattan Vegas of Venezuela hits irons from Jersey City, N.J., toward the New York City skyline.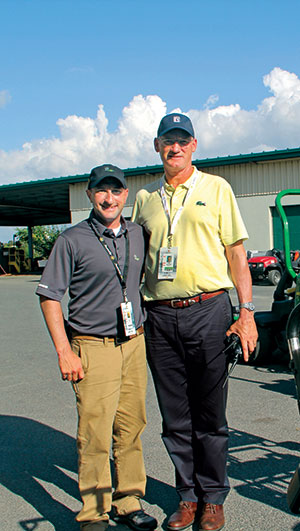 3. Time for a quick photo Jesse Dowdy, assistant superintendent at Liberty National GC (left), and Paul Vermeulen, director of competitions agronomy for the PGA Tour, in a rare moment when neither was directing traffic.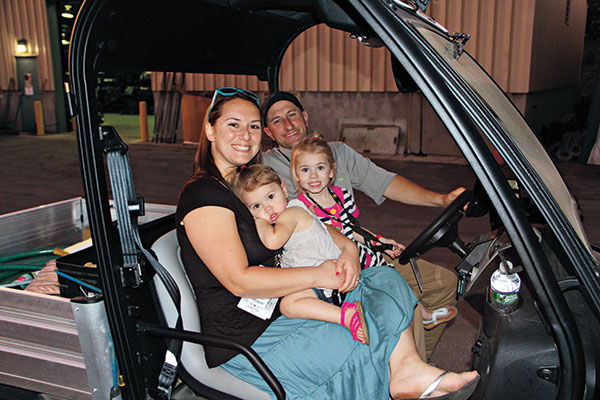 4. Family man What to do when you work so much you can't go home to see the family? Bring the family to work. Here Jesse Dowdy welcomes his wife, Ashley, and daughters Aubrey (1) and Mackenzie (4) to the Presidents Cup.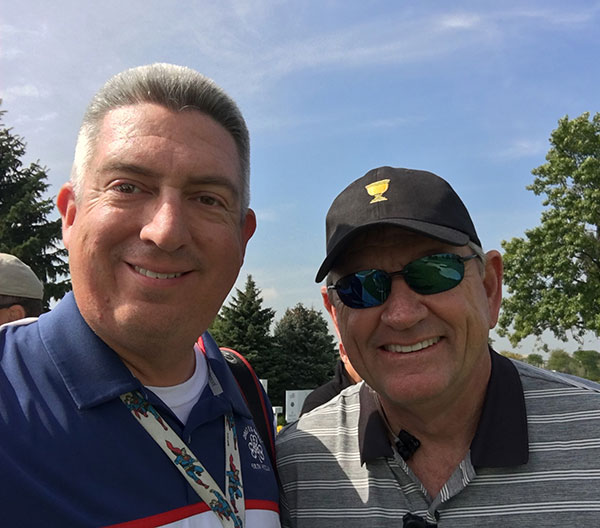 5. Reuniting with 2011 Old Tom Morris Award winner Golfdom Editor-in-Chief Seth Jones (left) got a selfie with International team captain Nick Price. Humble brag: The last time Jones saw Price was when he got dropped off by Price in Florida after a trek in Price's Cessna to Mexico.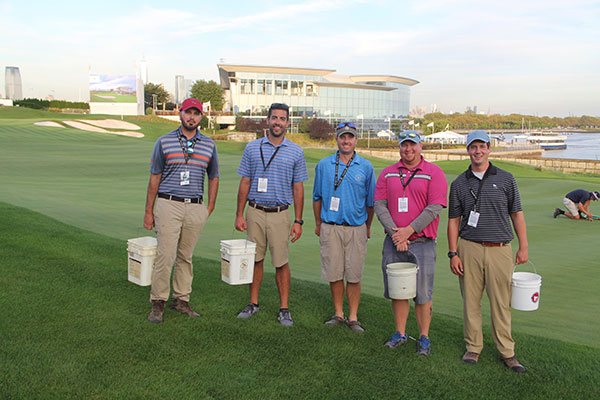 6. Divots defeated The only victory more lopsided than the U.S. team defeating the International team was the win the divot crew had over divots: 8,232-0-0. (Left to right) Stephen Logan, Lochinvar GC, Houston; Eric Junkins, Overbrook GC, Villanova, Pa.; Shaun Marcellus, the Old Course at Saucon Valley CC, Bethlehem, Pa.; Justin Eckert, The Olympic Club, San Francisco; Shaun Weyer, Pikewood National GC, Morgantown, W.Va.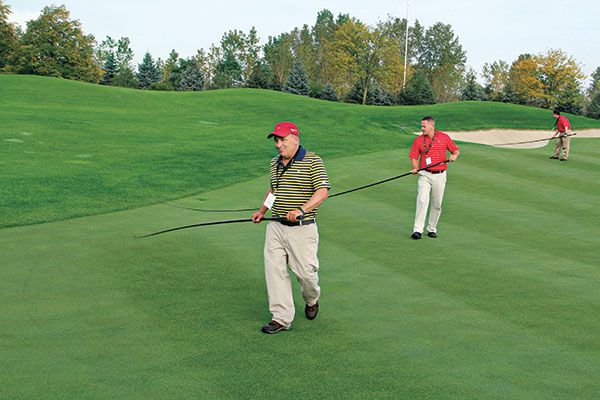 7. Whip it good! Our old friends Alan Easter, Southpointe GC, Canonsburg, Pa., and Brian Thompson, BASF, demonstrate proper clipping whipping form.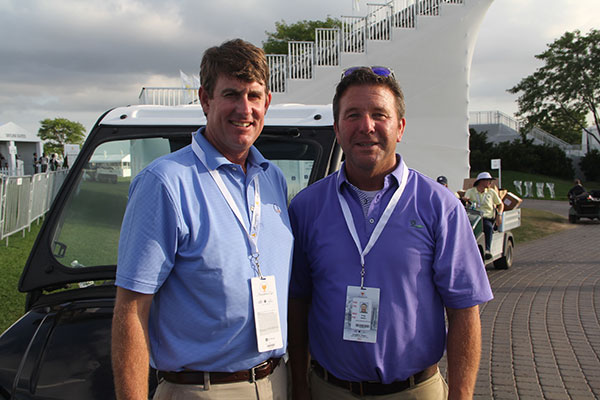 8. Game recognizes game When LNGC Superintendent Greg James (right) was introduced to Quail Hollow Club (Charlotte, N.C.) Superintendent Keith Wood, he called Wood "famous." Wood, who will host the 2021 Presidents Cup, argued that James was the famous grass grower of the two.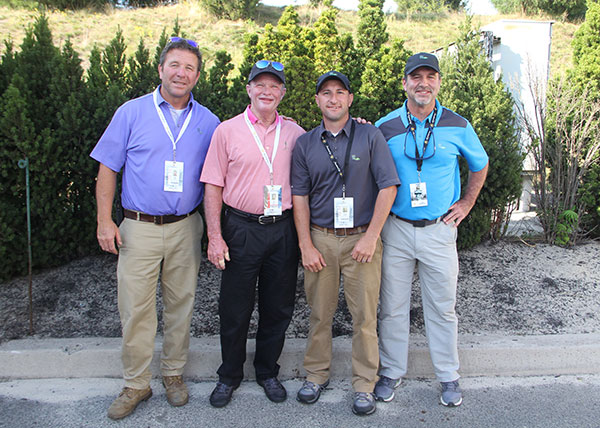 9. Tom Kite visit Before the Presidents Cup officially teed off, LNGC co-architect Tom Kite (second from left) stopped by the maintenance building to congratulate James, Dowdy, Heritage Links President Jon O'Donnell and the crew on a job well done.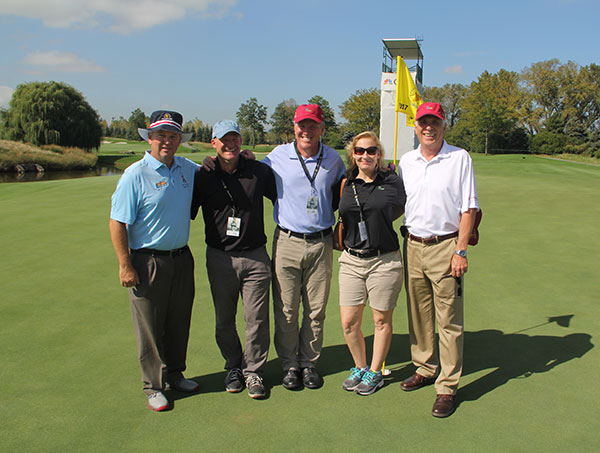 10. Floratine family The Floratine family was out in force to support the LNGC team. From left to right, President and CEO Kevin Cavanaugh; Corporate Agronomist Paul Ramina; Executive Vice President Mike Cavanaugh; Executive Assistant and Director of Customer Service Kimberly Bookout; and Corporate Agronomist Pat McHugh.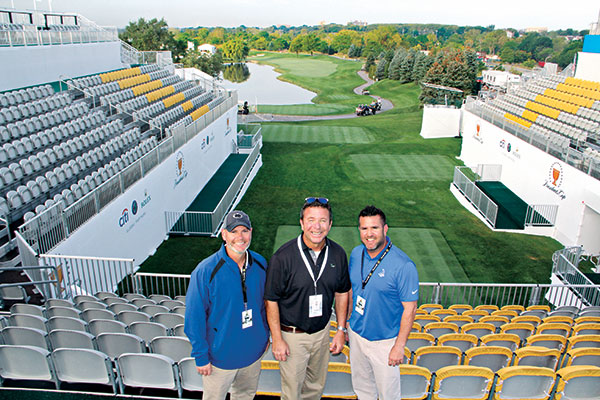 11. Now on the first tee… Posing for a photo in the amphitheater built on the first tee are (from left) Macro-Sorb's National Sales Director Eric Greytok; Greg James; and Seeton Turf Warehouse owner/Sales Manager Brian H. Gjelsvik.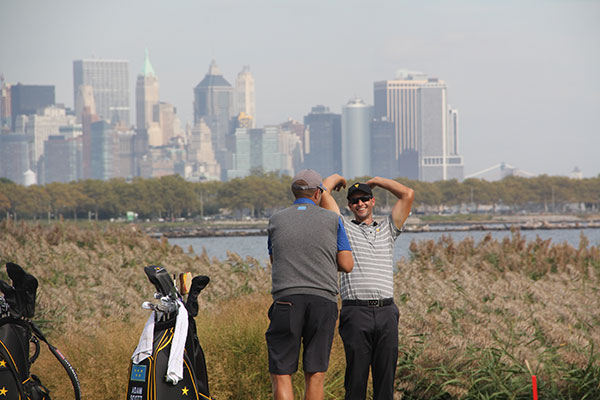 12. Wave goodbye International team player Adam Scott enjoyed himself during practice rounds. The tournament probably wasn't as much fun, as he went 1-3-0 on the week.
Photos: Golfdom