First-ever zoysia course projects on track across the globe
Seven seems to be the lucky number for zoysiagrass enthusiasts around the world right now as seven golf developments in seven different global locations are getting ready to join a number of U.S. courses that feature zoysia greens developed by a Texas-based company.
All the projects — firsts for their regions – are grassing greens or entire courses with zoysiagrass varieties developed by Poteet, Texas-based Bladerunner Farms (Bladerunner Farms/Team Zoysia (booth 1825 on the trade show floor), including the first all-zoysia courses in Florida and California, a wall-to-wall zoysia venue in Texas, Australia's and Southeast Asia's (Singapore) first zoysia greens, as well as in the Bahamas and Jamaica, where the first BRF Primo zoysia greens are getting started on two courses.
These projects together, the company says, signify a rising tide of zoysiagrass use on golf course greens—something entirely new that is a fundamental shift in the golf industry.
"We now have four BRF zoysia varieties suitable for use on golf course greens," says David Doguet, president of Bladerunner Farms, the world's largest independently owned zoysiagrass research facility. "Primo zoysia, Trinity zoysia, Lazer zoysia and Prizm zoysia are the culmination of 30 years of research, development and real-world trials. It is so gratifying to see it come to fruition. I truly believe zoysia for greens is poised to revolutionize golf course management because of the low inputs required and outstanding drought tolerance. It's what I've dedicated my career to achieve."
Other recent projects now open and with zoysia greens grasses developed by Bladerunner Farms include Crooked Creek Club in Atlanta (Primo zoysia) on all greens; Spanish Wells in Hilton Head (Primo zoysia on its 9-hole golf course); Bluejack National in Texas, designed by Tiger Woods (Trinity zoysia on the short-course greens); and Golf Clubs of Texas in San Antonio, with all 18 greens planted in Trinity zoysia.
Bladerunner Farms, along with Team Zoysia and Team Zoysia International, works with Ambika Chandra, Ph.D., at Texas A&M University and Brian Schwartz, Ph.D., at the University of Georgia to develop and continue to test new zoysia varieties. At the University of Tennessee, John Sorochan, Ph.D., is doing grow-in and maintenance studies on the Bladerunner greens-type zoysias.
Along with the U.S. locations, Bladerunner Farms and licensing agent Team Zoysia International has ongoing real-world and research trials in nine countries, including Brazil, the Bahamas, Mexico, Australia, South Korea, Thailand, Vietnam, Spain and Portugal.
Seven and nine — they both appear to be lucky numbers.
To learn more, visit the booth or go online to BladerunnerFarms.com.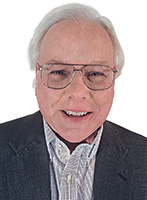 About the Author: Ed Hiscock
Ed Hiscock is editor-at-large for Golfdom. He can be reached at
hiscock.ed@gmail.com.