Cushman: Hauler Lineup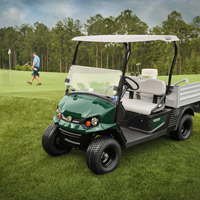 The new Cushman® Hauler® 1200, Hauler 1200X, Hauler PRO and the Hauler PRO-X are built with must have functionality.
Highlights include:
A truck-inspired design, practical dash, highly customizable bed options including divider slots and tie down locations.
Only the Hauler PRO offers a 72-volt AC drivetrain with optional IntelliBrake™ technology.
Build it your way with affordable accessories:
Bed Dividers
Brushguard
Canopy an Cargo Storage Nets
L-Track Aluminum Bed System
D-Loops
Flexible Tool Clamps
Long-Handled Tool Holder
Rearview Mirror
ROPS-Certified Cab
ROPS-Certified Ball Cage
Schedule your demo at haulerdemo.com.