Course of the Week: Reynolds Plantation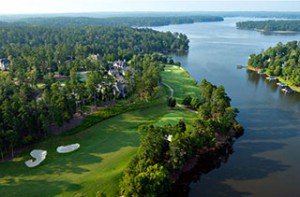 Reynolds Plantation on Lake Oconee in Greensboro, Ga., has been honored by Golf Magazine with two courses on its "Top 100 Courses You Can Play" list, and four on its list of "Best Public Golf Courses in Georgia 2014."
Leading the list of honors for Reynolds Plantation is the Great Waters course, ranked No. 46 on the Top 100 nationally, and the Oconee course ranked No. 67.
On the Best Courses Top 15 list for Georgia, Reynolds Plantation captured four spots, more than any other venue in the South: Great Waters No. 2, Oconee Course No. 4, the National Course No. 5 and The Landing No. 11.
The "Best Public Golf Courses Near You" is a state-by-state compilation of golf courses accessible to guest and/or public play. It is part of Golf's "Top 100 Courses You Can Play" rankings published in the Sept. 2014 issue.
"We truly appreciate being recognized for this level of excellence," says Mark Lammi, vice president of golf operations at Reynolds Plantation. "The quality and diversity of all six venues to play at Reynolds Plantation gives us one of the greatest collections of golf courses in the country."
All four courses honored have undergone various degrees of renovation the past two years. Greens at The Oconee, designed by Rees Jones, and Tom Fazio's 27-hole gem, The National, were converted to Champion bermudagrass, providing  year-round playing surfaces. A complete bunker renovation and landscape beautification was also completed at The National. The Landing, the historic Bob Cupp design that introduced golf to the Lake Oconee region, and Jack Nicklaus's Great Waters courses also received major enhancements over the past two years.
The golf course projects were part of a multi-million dollar renovation that touched nearly every facet of the award-winning Reynolds Plantation residential golf community, as well as The Ritz-Carlton Lodge, a AAA Five Diamond resort.