Chris Lutzke, Pete Dye design associate, accepted into ASGCA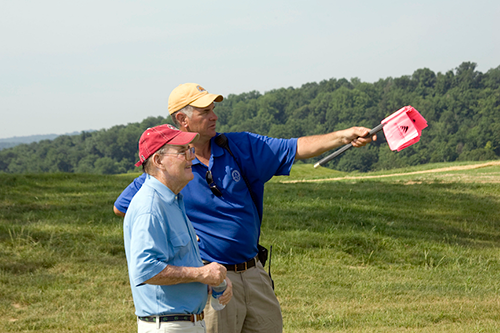 Chris Lutzke, long time Pete Dye design associate and Dye's right-hand man for more than 20 years, has been accepted into the American Society of Golf Course Architects (ASGCA).
"It was a long-term goal and it was important to Pete over the years that I apply," Lutzke said. "But it was Alice Dye who kept on me and had me get the applications in, do interviews and go in front of the board. Pete and Alice were the driving force and it has been a great long journey."
A prospective member goes through a two-year application process that tests their knowledge of golf course architecture, training, experience and architectural vision. The prospective member must also be sponsored by three ASGCA members. Dye, Jerry Matthews and Lee Schmidt were the sponsors for Lutzke.
Lutzke started his career in golf course construction in 1986 working on Pete Dye's masterpiece Blackwolf Run in Kohler, Wis. His passion for design and building along with his creativity and work ethic caught the attention of Dye, who after a short time would offer him a long-term position to work on future projects like Old Marsh and Grand Harbor in Florida.
During Chris' tenure with Dye he studied and earned two degrees from Michigan State University in agronomy and landscape architecture. His education also included a three-month trip to the British Isles where he was able to research the games architecture at such classic venues as St. Andrews, Carnoustie and Royal County Down.
Lutzke was a quick study under Dye embracing his mentor's unique vision and strategy in course design. That led him to work on many of Dye's signature projects, including the Ocean Course at Kiawah Island prior to the 1991 Ryder Cup. He was also largely involved with the renovation of Crooked Stick Golf Club in preparation for the 1991 PGA Championship.
Lutzke was also on-site at the world-famous Whistling Straits courses, The Honors Course in Tennessee, Mystic Rock at Nemacolin Woodlands, and Colleton River Plantation on Hilton Head, which are each ranked among the top 100 golf courses in the world by either Golf Digest or Golf Magazine. Other notable courses he worked on include Teeth of the Dog at Casa de Campo, Brickyard Crossing, Barefoot Landing, and he was the project architect at the Pete Dye Course at French Lick Resort.
"I just turned 50 and this is a really good time for me," he said. "My allegiance has always been with Pete, building and managing projects, but now it feels like a good time to begin showcasing what I have learned from Pete these past 30 plus years. Having been in the dirt for all of these years and working with him on drawings and routings actually transitions perfectly for me to begin creating my own designs and projects."
Lutzke does have one solo design credited to him, which debuted in East Lansing, Michigan where he designed and built the award-winning Eagle Eye, part of one of the top golf facilities in Michigan, Hawk Hollow, which he also assisted in the design. Eagle Eye is a visually stunning transformation of a former sod farm and cornfield into a British/Irish links style layout featuring a number of Dye subtleties in the shaping, bunkering and green complexes. Dye himself was impressed by Chris' work saying, "This is Chris' design and he got it right."
Lutzke is currently involved in another upcoming Ryder Cup project. This time he is back at Whistling Straits in advance of hosting the 2020 matches.
"We are there overseeing and performing most of the construction to help create an exciting Ryder Cup venue. That's as much as I can say at this point," he said. "We are also working with French Lick Resort on a third golf course and doing renovation work at a few other places."
Photo: Albanese & Lutzke Design