Bayer: Exteris Stressgard Fungicide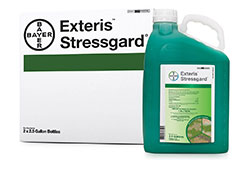 Exteris® Stressgard® is a game-changing innovation for stress mitigation and foliar disease management on fairways. With Leaf-Cote™ Technology, Exteris offers improved product retention on the leaf surface, sticking where it's needed most – at the site of fungal activity. Exteris Stressgard is capable of both preventative and curative activity in controlling most turfgrass diseases across a range of spray volumes. Exteris Stressgard has excellent tank-mix compatibility, making it simple to integrate into your current disease management program. For the first time ever, Exteris Stressgard is available for purchase through the Bayer Fall Solutions early order program. For more details, visit: myrewards.cropscience.bayer.com.
Learn more about Extersis Stressguard.
Bayer CropScience LP, Environmental Science Division, 2 TW Alexander Drive, Research Triangle Park, NC 27709. 1-800-331-2867. www.backedbybayer.com. Bayer (reg'd), the Bayer Cross (reg'd), Exteris and Stressgard are registered trademarks of Bayer. Leaf-Cote is a trademark of Bayer. Not all products are registered in all states. Always read and follow label instructions carefully. ©2017 Bayer CropScience LP.