AcuRite unveils weather management tool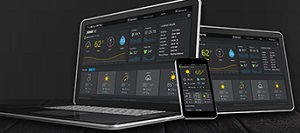 AcuRite released its My AcuRite weather environment system. This platform allows users to accurately measure local conditions, broadcast, share and analyze data, upload to weather communities and receive notifications of changing conditions.
My AcuRite is built upon a cloud-based platform that delivers AcuRite's environmental measurement technologies to a consumer's laptop, tablet or smartphone. An intuitive, easy-to-navigate, data-packed app and web interface connects users with actionable information about their specific location. Examples include rainfall amounts, wind speed and direction, and more.
In addition to providing a picture of outdoor conditions, My AcuRite can be expanded to deliver a variety of indoor environmental monitoring functions and customizable notifications.
Following are highlights of My AcuRite features and capabilities that benefit a wide range of users:
My AcuRite Benefits
Precision weather measuring, including rainfall tracking, wind speed, wind direction, temperature, humidity and barometric pressure.
Ability to track, analyze, export and archive historical weather data.
Broadcasting to weather communities, plus ability to share weather data within the My AcuRite network.
Water leak detection.
Monitor air quality.
Low indoor humidity alerts.
Low temperature alerts.
Excessive rainfall alerts.
High wind alerts.
Rainfall tracking.
Soil temperature monitoring.
Additionally, My AcuRite features a dashboard with 12-hour trend charts and customizable alerts to phone and email about conditions. It also can connect up to 10 indoor and outdoor monitoring sensors and is compatible with a full range of environmental sensors, including water leak detectors, liquid temperature sensors and soil temperature sensors.
"My AcuRite goes beyond a weather app or the Internet of Things, it's about connecting consumers with useful data from AcuRite products and services," said Larry Meadows, director of platform solutions at AcuRite. "With My AcuRite, information is presented to users in a meaningful way, through their chosen channel, and ultimately gives them the power to make educated decisions and take action in and around their homes or businesses."
My AcuRite environment systems will start at $129.99 MRSP and will be available on AcuRite.com and Amazon.com. The My AcuRite smartphone app will be available through the Apple App Store and Google Play.
Photos: AcuRite