A remarkable past…a vision for the future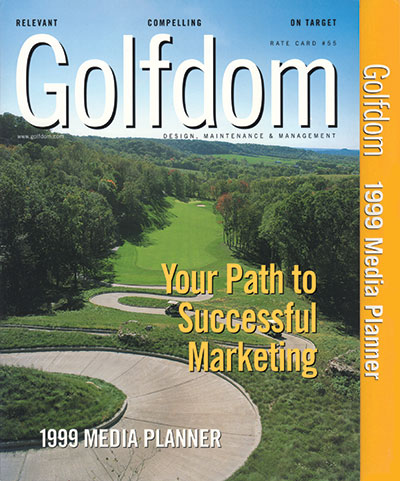 The following — written and signed by the magazine's then editor-in-chief — was the original four-page media planner for advertisers, introducing them to the relaunch of the magazine in 1999.
Golfdom yesterday…
What was Golfdom?
It was the business journal for the golf industry for more than half of a century. Superintendents, golf professionals and club leaders all turned to Golfdom for expert advice on topics ranging from topdressing to table settings. Under the inspired leadership of the legendary "Mr. Golf," Herb Graffis, Golfdom was also a place for hard-hitting opinions, insider news and analysis of the trends and topics that shaped the business.
Golfdom led.
Founded in 1927 by Herb and his brother Joe, Golfdom was among the first to recognize that golf was very much a business and that "greenkeepers" were the unsung heroes that kept the business humming. In fact, Herb, Joe and Golfdom were one of the driving forces behind the early years of the National Greenkeepers Association — a group known today as GCSAA. In their spare time, Herb and Joe also founded the National Golf Foundation.
Golfdom pioneered.
The introduction of planned drainage, fairway irrigation, improved "maintenance barns" and even synthetic pesticides were all sped along by the strong editorial efforts of Golfdom.
Golfdom campaigned.
The magazine's agenda included better clubhouse designs, scholarships for caddies, course landscaping and beautification, collegiate education for superintendents and better business skills for golf professionals.
Golfdom contributed.
In the words of Herb Graffis on the 50th anniversary of the magazine in 1977, the stories in Golfdom were "informative, necessary and resourceful. They worked because they focused on the business. It was fun, getting Golfdom to work for golf business and all the great people it fit."
Thanks, Herb. We hope to live up to your words.
Golfdom today…
Why bring back Golfdom?
My answer is, "Why not?" It was arguably the most influential publication in the game's history. It was trendsetting, muck-raking, idealistic and fun. It had personality.
How can we improve on that? We can't. We can do no better than to bring the same spirit and commitment to the industry as Mr. Graffis and his colleagues did 70 years ago.
But, we can narrow our focus just to the complex and often unrecognized issues that affect today's superintendents, architects and other on-course professionals. And, thanks to great technology and world-class photography, we can produce a magazine that looks as fabulous as the industry we serve. Finally, we can fill an important gap by providing more of the challenging editorial content that meets the sophisticated needs of the top people in our industry.
With that in mind, here's our promise. Golfdom will:
Always be relevant
Assume our readers are smart people
Focus on innovation
Be designed for busy professionals
Act on behalf of its readers
Look great and be fun to read
Have an attitude
Frankly, we think readers will relish being treated as intelligent consumers who deserve easy-to-digest, practical, "how-to" stories on the products, services and topics that mean the most to them. We also think the technical coverage of golf course design, renovation and construction will be of tremendous interest to those superintendents with the most purchasing power and most word-of-mouth influence. Finally, we think the readers should truly enjoy our magazine for its opinions, its attractive presentation and its willingness to address issues head on.
For those reasons and more, I hope you'll choose to join us in the pages of Golfdom in 1999 and beyond.