A golf course waiting to happen
Although Stoatin Brae Golf Club opened just this year, its natural characteristics are reminiscent of an old Scottish links course, and its superintendent plans to keep it that way.
As Jon Scott, owner and president of Augusta, Mich.'s Gull Lake View Golf Club and Resort surveyed a 200-acre property on top of a 200-foot ridge (one of the highest points in Kalamazoo County), he was struck by one key characteristic: This former apple orchard only had five trees.
After all, Gull Lake View's other five championship courses are known for their tree-lined fairways and scenic forests. But the orchard's previous owner decided to clear out nearly all of the trees. Nevertheless, Scott believed the property, which is adjacent to Gull Lake View's Stonehedge Golf Club, was a golf course waiting to happen, as its topography is not only astonishing, but also has a Scottish feel to it.
So, Scott contacted renowned architect Tom Doak and his team at Renaissance Golf Design — Eric Iverson, Brian Schneider, Brian Slawnik and Don Placek — to design the course's holes and build its bunkers, greens and tees, while the Gull Lake View staff would finish the course's shaping, including the pea stone and greens mix layers on greens as well as the interior drainage in greens and bunkers.
Stoatin Brae Golf Club, the sixth championship course to be built at Gull Lake View Resort, was born.
Water for health, not color
Paul Hallock, superintendent of the course, was hired during the late stages of construction, when only two holes still had to be graded and seeded, so he focused mainly on preparing for the course's opening. In particular, he dedicated himself to the conditioning of the turfgrass.
"I needed to implement a proper fertilization and control product application program, which includes growth regulators, wetting agents and biostimulants," he explains. "I also had to develop consistent mowing strategies, including frequency and reduction of heights of cut. Due to the way the golf course was designed, mow lines (between fairways, roughs and naturalized areas) were blurred and had to be worked out over time."
Hallock and his crew decided to use a minimally designed Toro irrigation system, comprised of nearly 510 Infinity heads, decoders and a Lynx central control computer. In addition, the course has an 800-gpm Flowtronex pump station. As a result of the system's minimal design, the outer edges of the play lines are left "in the hands of Mother Nature for the most part," according to Hallock, as the double row on most fairways tapers to a single row around trees.
"Since we are still finishing the grow-in phase, it really is not a hole-by-hole monitoring, but rather an area-by-hole monitoring for plant health," Hallock says. "My overall water philosophy, which will be employed after the grow-in, is to water for health rather than color."
This philosophy certainly suits the course's links-style attributes, particularly regarding traditional links-style golf course management: low inputs of water, fertilizers and control products, along with constant monitoring for plant health and playability. Consequently, two words describe Stoatin Brae now: firm and fast.
"The course was seeded in with low-mow KBG fairways. These, in correlation with the clayey soils, mean that the course is really fast and firm when it's dry," says Jon Scott. "The roughs were seeded with a mix of KBG and fescues, as minimal watering allowed it to evolve into the turf that was most ideal for our links style."
A unique mowing strategy
Since Stoatin Brae's grand opening this spring, Hallock and his crew have reduced irrigation frequency considerably, as they have less grow-in to complete. It continues to be watered for plant health and playability only, and is evaluated daily for areas that need — and perhaps more importantly, don't need — water.
Hallock also has a blend of low-mow bluegrass on fairways that, especially in the last two seasons, has proven to not only require low inputs of fungicides to control disease, but also provides a consistently healthy surface. With 45 acres of low-mow bluegrass blend of fairways, collars and approaches, Hallock also has decided to employ a unique mowing strategy on each of Stoatin Brae's fairways.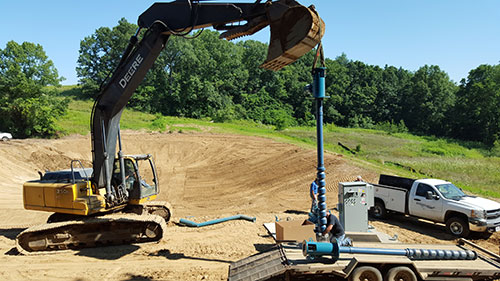 Stoatin Brae's irrigation pond was installed away from the golf holes to preserve the natural design of the course. The construction crew drills a well in the pond (left), and the Gull Lake View crew installs the pond liner (right).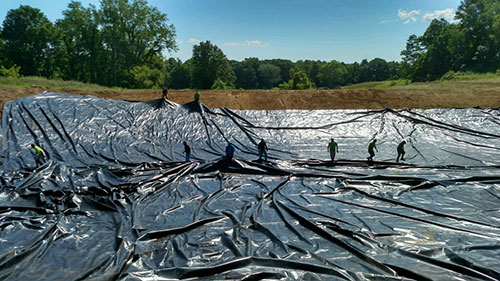 "We mow nine holes a day six days a week on an odd-and-even rotation," he states. "This allows us to mow fairways completely three times per week with two mowers and rarely ever be caught in play."
Hallock and his crew also mow 45 acres of fescue blend roughs with two 70-inch rough mowers, often twice a week. Because the rough is not irrigated much if at all, some spots typically need to be mowed only once per week. In fact, Hallock has reduced the frequency to bi-weekly mowing at times.
"On greens, which are T1 bentgrass, we mow three times a week at .125, roll four times per week and maintain a speed of 10.25 feet on a consistent basis," he adds. "With our undulated greens design, this speed is the most sufficient by far."
Thin native grasses, in due time
Golfer response to Stoatin Brae has been extremely positive so far. Aside from the course's freshness, and the fact that it will take some time to mature into the course that Scott and Renaissance Golf Design originally envisioned, Hallock's primary issue is thinning out and pushing back the native grasses heavily lining many holes.
These naturalized areas can be intrusive to play, leading to lost balls and frustrated golfers. To ease those frustrations, Hallock and his crew intend to evaluate these lines for potential reduction in some areas, as well as possible additions in other regions that are more out of play.
"I think most of the trial and error we have experienced comes from being impatient and acting off script," Hallock says. "I am a planner by nature, and have learned in my career that doing things on impulse — while it can get the job done — is usually less effective and efficient than having a solid plan."
Bearing in mind the course's playability for each customer, whether it's a well-experienced scratch golfer or a high handicapper new to the game, Hallock realizes that grow-in simply will take time and a lot of patience. Positive change regarding the naturalized areas, while not easy to recognize day to day, will occur in due time.
"We understand it's not fun to lose golf balls, but like everything new, it takes a while to get it just right," he stresses. "Most golfers see the vision and agree it is a special piece of ground. In a couple years, it's going to be unbelievable."
Photos: Stoatin Brae Golf Club (4,5), Dave Richards (1,3) Nile Young (2)