Career tips: 7 apps to keep you organized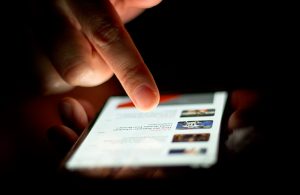 Quick, who is the current director of the FBI?
If your first instinct was to grab your smartphone, you're not alone. An almost unfathomable amount of knowledge can be accessed from our handheld devices, and yet, what do many people do on their phones? Check social media. How many hours a day do you spend aimlessly scrolling through Facebook or Twitter? Probably more than you'd like to admit.
Our phones have so much more potential than being used for seeing baby pictures or updates from that not-really-your-friend-but-still-here "friend."
So to help break our habit of endless, mindless scrolling, here is a list of seven apps to help you reclaim your phone and maximize its potential.
1. Wunderlist
I could go on for hours about how much Wunderlist has helped me get organized. This digital to-do list is sleek and simple. You can share your lists with others and even assign tasks. You also get the satisfaction of checking things off your to-do list. And who doesn't love that feeling?
2. Pocket
How often do you come across an interesting story but don't have a free moment to actually read it? With Pocket you can stash away that story for a later time. You can save stories from Facebook and Twitter, and news apps like Flipboard. Then, when you get a spare second, all the stories you have saved will be waiting for you.
3. Pushbullet
Technically speaking, Pushbullet is an app that connects your computer to your mobile device through a web browser. Essentially, you can read your text messages, transfer files and check your notifications right on your computer. This app is especially handy if your job requires you to have your eyes borderline glued to a computer screen all day. It's much easier to read and respond to a text message from a browser window than digging your phone out of your pocket or purse to respond.
4. Evernote
In my humble opinion, this is the best note-taking app—and I'm not alone in my thinking. From the app you can set a reminder note, write a simple text note, write a note in your own handwriting, take a picture or start a work chat. It's my tech version of Post-its.
5. LastPass
Do you work with sensitive information on a daily basis? Or maybe you have trouble remembering all your passwords. Either way, this password generator produces hard-to-hack passwords just for you. You simply create one master password and then this app will generate and auto-fill login information for you. It also comes with a desktop version. This is definitely worth a look.
6. RescueTime
Want a reality check for how much time you're actually spending on Facebook? The free version tracks minutes spent on various sites or applications.
7. IF
This is a nifty little app that could come in handy for several different reasons. It allows you to set up "recipes" for certain activities on your phone. Simply put, you are telling your phone if this happens then this happens (e.g.- If I post to Instragram then save that photo to Dropbox). There are thousands of combinations you can try.
Bonus:
For my android wielding friends, I have two more.
Clean Master. SUPER EASY WAY TO CLEAR YOUR CACHE. That's pretty much all I need to say about this. Clean up your phone, check the temperature of your CPU and other fun things to improve the overall run time and efficiency of your device.
Battery Doctor. This is an absolutely delightful power-saving app, brought to you by the brilliant minds that developed Clean Master. It takes one tap to stop all the power-draining apps from running. Plus it comes with other power saving features, including one to speed up charging times.
Photo: Japanexperterna.se via Foter.com / CC BY-SA