2017 Fungicide Survey: Success from coast to coast
From Atlantic to Pacific, superintendents reap the benefits of fungicide applications.
Regardless of a course's location, every superintendent at some point understands how a lack of control feels.
Whether they're combating the effects of weather or unusually short or long seasons, superintendents defending their courses from diseases typically have more questions than answers, including: "Which fungicide product is ideal for my course's diseases? When should I purchase it? And how often (and where) should I apply it?"
To provide answers for these (and other) questions, Golfdom recently submitted a survey to readers to learn which fungicides currently are most popular, how and when they are being used and what impact they are having. (Some of the results of the survey are presented as you read the story. Thank you to everyone who took the time to complete our survey, and a warm congratulations to Randy Adcock, superintendent, Prairie View Golf Club, Carmel, Ind., and Jim Wilkins, manager of golf operations, West Woods Golf, Evergreen, Colorado. (They are our two randomly selected $100 Visa gift card winners.) In addition, the magazine reached out to four superintendents across the country, each of whom shared the following success stories and advice.
Card Sound Golf Club
Observe. Adjust. Repeat.
Sean Anderson has witnessed every type of weather — hot, humid, wet, dry — throughout his 11 years of service as the superintendent at Card Sound Golf Club, an 18-hole private club in Key Largo, Fla. For instance, throughout much of 2015, wet El Niño conditions led Anderson and his crew to apply more fungicide than usual. However, within the last year or so, more favorable weather has reduced the course's disease patterns significantly.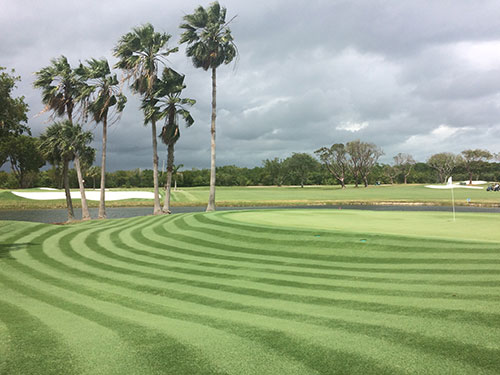 "Each year seems to be quite different from the next, so the ability to adjust our fungicide programs is a must," Anderson says. "The key for us is being observant and understanding the disease patterns we have and the conditions that favor particular disease development."
Because of his longstanding career at Card Sound, Anderson has been able to monitor disease development and better understand certain disease triggers — from cloud coverage to temperature — and tailor the club's preventative and curative applications according to the data he tracks.
He typically applies fungicides on greens, tees and approaches, using quite a few different types of chemistries and cycles. Often, during the summer and fall months, Anderson uses a 21- to 28-day cycle. He can shorten this cycle, though, if pressures are high, especially during cloudy periods in September and October.
"Timing is everything. You get so much more effectiveness by timing and targeting your applications," Anderson states. "If you miss your window with preventative applications you end up spending so much more time focusing on curatives."
To further improve the timing of applications to achieve success in controlling diseases, Anderson also advises superintendents to discuss fungicides with chemical manufacturing specialists.
"There is so much support out there these days from the different chemical manufacturing companies that are more than willing to help superintendents identify diseases and programs to combat the diseases," he explains. "Take advantage of them."
Cleveland Country Club
Trials and errors result in an ideal fungicide "fit"
With more than 12 years of experience as superintendent of Shelby, N.C.'s Cleveland Country Club, Scott McArthur understands that there is no such thing as a fungicide program that works for everyone. It simply doesn't exist.
For several years, McArthur has used fungicides for fairy ring after initially trying a then-new program (unsuccessfully) that research had, at the time, shown to be the best.
"When it didn't work for me, I talked to a fellow superintendent and used his advice, along with part of my program, to create the fungicides that work best for me in my microclimate and soil structures," he says.
McArthur and his agronomy team currently use eight types of fungicides for diseases like fairy ring. His decision to use various fungicides ultimately was a direct result of two factors: conversations with peers and vendors who educated him on the best options available to treat Cleveland Country Club's diseases, and a variety of trials and errors that helped him create the most cost-effective program possible.
The conversations, trials and errors have had a positive influence on McArthur's results so far. For example, a few years ago the club had a large outbreak of fairy ring about two weeks before a member-guest tournament was set to begin — to the point where the course had so many mushrooms that it looked like a hail storm had just occurred.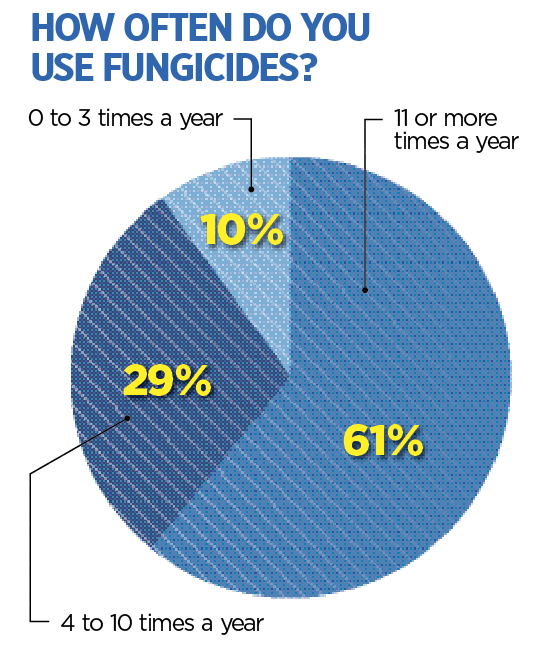 "But, after talking to a superintendent who suggested Tebuconazole, I sprayed the generic at 0.6 ounces per 1,000 square feet," McArthur says. "The fairy ring and mushrooms were long gone before the first day of the tournament. And best of all, it only cost about $65."
With a total maintenance budget of $329,551, McArthur doesn't intend to spend more than $10,000 on fungicides this year, as he will apply his products only on greens and, like Card Sound Golf Club's Sean Anderson, purchase them during the early order period of October.
"Aside from reducing costs by purchasing in October, superintendents should also try to not overuse the same fungicide," he continues. "But, if there is something that works well, they should stick with it and not change just because something is supposed to be better."
County of San Luis Obispo
Stay on schedule
As the golf course supervisor, parks and recreation, for the Golf Division of the County of San Luis Obispo, Calif., Albert Nunes currently maintains 36 holes, including the 18-hole Dairy Creek Golf Course, based in San Luis Obispo, and the 18-hole Morro Bay Golf Course, located in Morro Bay, a responsibility he's had for seven years.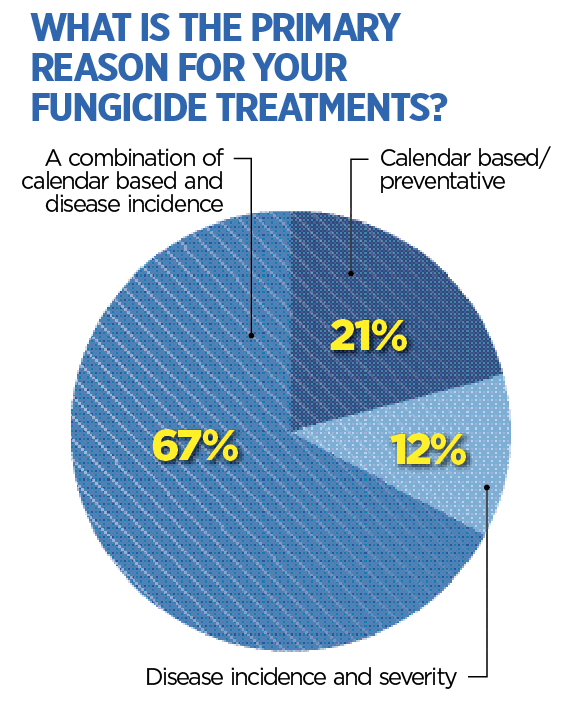 Operating on a maintenance budget of $2.8 million this year, Nunes currently is adding P-K Phite and P-K Plus to his fungicide tank mix, primarily as a preventative measure, as each phosphate stimulates plants' natural chemical and physical defenses against diseases like Pythium root rot. He recently has overcome various diseases, including anthracnose, fusarium and waitea.
"Since Morro Bay is a seaside course with fog and wet conditions throughout the summer, it is an ideal environment for fungus. So we are on a 14- to 21-day spray schedule," Nunes says. "If we do not stay on schedule with our fungicide applications, disease will appear."
He continues, "It is important to also closely monitor weather predictions. If rain is predicted, we get our fungicides out ahead of schedule rather than waiting until after the storm when disease has a chance to form."
Nunes and his crew are open to using generics whenever, each of which is applied only to the courses' greens. They also avoid skipping an application or extending their intervals. Because of different environmental conditions, Dairy Creek's intervals are about a week longer than Morro Bay's: 21 to 28 days in all.
"Not only should fungicides be applied on time, but chemistries must also be rotated on a regular schedule to prevent resistance," Nunes explains. "Furthermore, superintendents should use combo fungicides, as they provide broad spectrum control and help prevent soil conditions that are favorable for disease."
Tonto Verde Golf Club
Preventative greens protection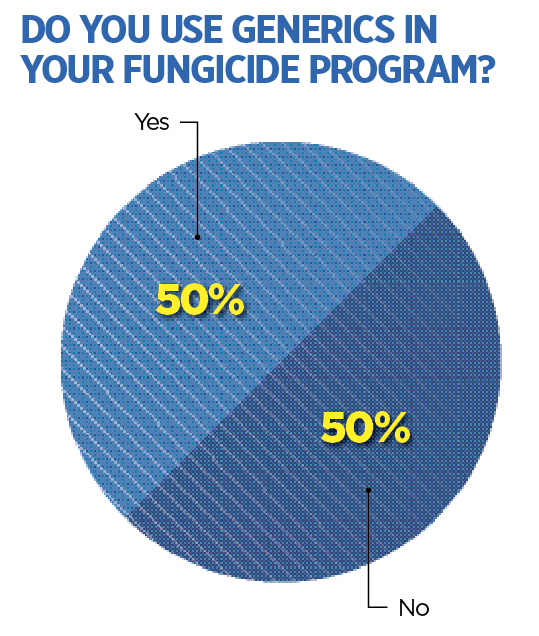 Because of Tonto Verde Golf Club's location in the desert (Rio Verde, Ariz., to be exact), Travis Blamires, director of agronomy, does not apply an overabundance of fungicides on either of the club's two 18-hole courses, the Peaks and the Ranch. Nonetheless, from time to time, disease pressure around overseeding does occur, leading Blamires and his crew to apply fungicides preventatively to greens before dropping any seeds.
"This ensures a layer of protection while we are running water for germination and seeding establishment when the weather is still extremely warm," Blamires says. "We also apply fungicides preventatively on all our putting surfaces in the spring to treat fairy ring."
During his two years of service at Tonto Verde, Blamires has witnessed newly seeded grasses disappear virtually overnight from high humidity and extremely hot daytime temperatures. However, he has been able to combat these harsh conditions by providing a layer of fungicide protection to his greens for the first two weeks after seeding, the period in which the seed is most vulnerable.
With a maintenance budget this year of $3.2 million, Blamires doesn't intend to purchase a fungicide that isn't a name brand. In fact, he never uses generics because he believes name brands are more efficient. This spring, Blamires applied a combination of fungicides that has been effective in keeping the turf healthy. He also says Heritage has become a popular application for pre-seeding in the Southwest. Blamires says he uses it before they drops seeds on greens.
"Regardless of the fungicide, superintendents must ensure they are also rotating chemical classes whenever they're applied," Blamires states. "It is imperative to not keep putting the same chemistry down time after time on the same disease."
"The bottom line," he adds, "is each course is different, and comfort is also important. Superintendents must use whichever fungicides they are most comfortable with, as well as the ones that work best for their own unique sites."
Photos: (Cleveland CC) Scott McArthur, (Card Sound GC) Sean Anderson, (Tonto Verde GC) Travis Blamires