What's new at GIE+EXPO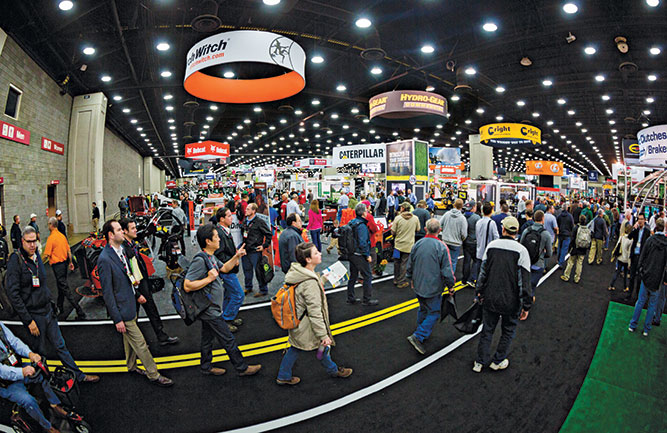 From products that help save the earth to products that help save money — it was all at the 2016 GIE+Expo show.
After a one-year break (or maybe ban, who's to say?), I made my return to the Green Industry & Equipment Expo in Louisville, Ky. I mostly attend in a support role for our sister publication, Landscape Management magazine, but there are plenty of familiar faces from the golf industry there as well.
This year the show offered golf maintenance professionals a golf-specific educational track. Sadly, not much of a turnout, with a little less than 100 people in the room despite almost 200 pre-registered as golf industry pros. The selection of speakers was great (including Oakmont's John Zimmers and Oak Hill's Jeff Corcoran), so I'll blame the low turnout on the solid party scene on 4th Street Live and the choice of moderators (events should choose their Joneses carefully.)
Still, it was a good show to see some equipment, like a first look at Air2G2's new handheld aerator, which debuted at the show. Here's a recap of some of the more interesting items I saw that you should keep an eye out for…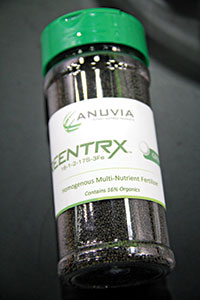 My first meeting was perhaps my most interesting, with Hugh MacGillivray, executive VP of marketing and business development for Anuvia.
Anuvia is a new fertilizer company (their first product rolled off the line in May of this year) and they're already growing. Anuvia produces a plant nutrition product for golf courses that's also helping the environment by reducing waste. Anuvia's GreenTRX 16-1-2-17S-3FE is food waste put through a reaction process that gets it down to an amino acid and delivered as a granular fertilizer.
"This is an exciting product because we represent a sustainable approach while helping the superintendent," MacGillivray told me. "We're taking this food waste out of the landfill and giving it a practical use." He told me the product delivers efficient nutrient delivery without the use of coatings or polymers, is safe and produces deep greening."
Interesting to think that food waste — which you'll never see on my plate when we go out to dinner — can be converted to a useful product for golf course fertilization. Hugh and I exchanged cards and agreed to stay in touch on future developments, like university research.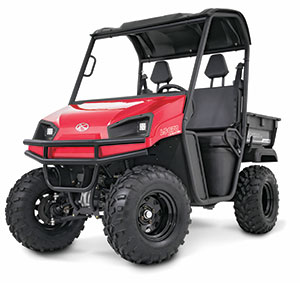 This was another one (like Anuvia) that was new to me. Unlike Anuvia, on this one, I could kick the tires.
American Landmaster manufactures utility vehicles, and they want to catch the eye of superintendents. Right now their focus seems to be on small farms and hunters, but they want to expand beyond that. They've never exhibited at the Golf Industry Show but see the potential there (there's a hot lead for you, GCSAA).
So what are their selling points? Pretty simple. 1) These vehicles are 100-percent American made and 2) these vehicles are, well… inexpensive.
Eric Hall, marketing director for the company, gave me a guided tour of the LandStar LS350 with turf tires. The vehicle retails at $4,700. (The Cadillac of the line, the LS750, fully loaded, is $9,200.) The LS350 can tow up to 1,000 pounds and has a top speed of 25 miles per hour. Each vehicle comes with a 3-year engine warranty and a 1-year limited vehicle warranty. The engine is a Landmaxx 4-stroke 277cc single-cylinder Kohler Command Pro.
From walking the aisles at GIE+Expo it's easy to see that there are a lot of utility vehicle manufacturers out there. The ones who make it in the golf industry are the ones who make a commitment to the golf industry. Time will tell if American Landmaster will be one of them. Interestingly, the same day Hall and I exchanged emails post-show, he received an inquiry on carrying their line from a golf distributor in the south.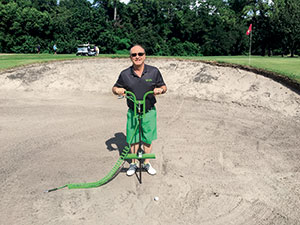 I've always had an interest in the Air2G2 since the demo I saw a couple years ago at the University of Georgia Golf Club. The machine fires probes into the ground that then ejects air, fracturing the soil at 6-inch and 12-inch depths. The machine can make a green surface flap up and down like a toupee in the wind.
Now GT Airinject, manufacturer of the Air2G2, has introduced the Air2HP aerification tool, a smaller handheld version of the Air2G2. Todd Jones, general manager, showed me the product and said it's ideal for smaller, hard-to-reach areas, like bunkers and around tree roots.
The Air2HP can go much deeper than the Air2G2 — up to 40 inches beneath the soil surface. The tool requires an external air compressor or can run off the Air2G2.
As big (and expensive) as the Air2G2 is, this smaller, affordable ($495) version of the same technology is interesting. I can see these getting a lot of use, especially in bunkers where there's been years of sand build-up. This product will be at both this month's Golfdom Summit and the 2017 Golf Industry Show, so I'll see about getting a video put together on it and up at Golfdom.com.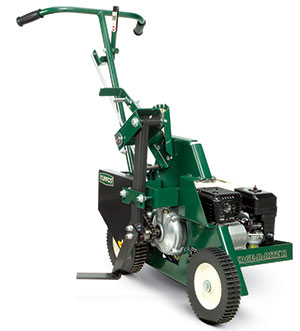 At the Turfco booth it was mostly equipment for landscapers, but there was a crossover or two. One of them was the Edge-R-Rite II. (Random aside: the power was out in the Kentucky Exposition Center in the block where Turfco was located. So that booth, and all the booths around them, were showcasing their products in relative darkness.)
The Edge-R-Rite II is the kind of product I wish I had in my garage. It'd be perfect for edging my sidewalk and driveway. But for Golfdom readers, this product is ideal for edging around bunkers. Why? This edger cuts without throwing debris, making cleanup a whole lot easier. Also, the edger offers various blades for different jobs, like right angle for edging, 30-degrees for around trees and a 3-inch sod cutter, among others.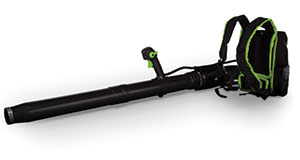 The slogan from Greenworks Commercial is "commercial grade power… from a battery." The company sells a whole line of blowers, string trimmers, hedge trimmers, chainsaws and even mowers.
I sat down with Gray Abercrombie, director of global marketing, at their booth while passer-bys were giving the battery-powered chainsaws a try. Abercrombie put me in a backpack blower to feel the power. I about knocked someone down as they were walking by — the power is there.
"This is an interesting time to be in the cordless power industry," Abercrombie said. "Six years ago, there were only two or three companies like us at (GIE+Expo.) Now, the battery industry is eroding into the gas industry. It's the future of outdoor power."
Their backpack blower is 50 percent quieter than a gas blower, important in places where noise restrictions limit (or outright ban) loud equipment. The blowers have a brushless motor that delivers more torque and longer life. The blower can run for 1.5 hours on high speed, but Abercrombie stressed that that's at full-throttle. The battery can last up to three hours when the user is more judicious with the throttle.
The batteries charge in 30 minutes, and you'll love this part — it costs 4 cents to charge one of the batteries. All the Greenworks Commercial batteries are compatible across the different products.
This is another company that was happy to be at GIE+Expo, but was equally interested in superintendents and what they might be able to do for their business. They name-dropped some courses that they're already at (names we'd all recognize) and they're bullish that this is just the beginning. I think we will be seeing more from them soon.
So that's my report from 2016 GIE+Expo. I hope I didn't have too much fun at the Landscape Management party at 4th Street Live, and that I'll be invited back to learn more in 2017.
Photos: GIE+EXPO, Seth Jones, American Landmaster, Turfco