Wee One Foundation supports superintendent battling ALS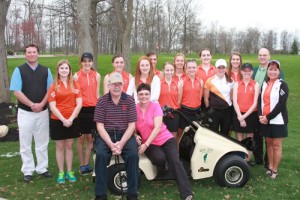 Dean Kerns, CGCS, has spent 33 years at Arrowhead Golf Club in Minster, Ohio. When he was recently diagnosed with Amyotrophic Lateral Sclerosis (ALS), a progressive neurodegenerative disease, it was inevitable that he would have to retire from two things he loves.
However, a surprise gift from the Wee One Foundation on Masters' Sunday will allow him to extend his career as a superintendent and a golfer.
Arrowhead is the home course for the Minster High School women's golf team, and some of the team members started to notice something different about the local superintendent last October. They confronted their coach, Debbie Ahrns, to see if she knew what was going on.
"I began to answer their questions the best that I was able to and the girls said 'it is so sad he will lose two things that he loves,'" Ahrns said. "I told them it didn't have to be that way and there are options out there that could help him."
On January 27, Ahrns sent out an email to the Golf Course Superintendents Association of America (GCSAA), and soon after, Mark Jordan, CGCS, natural resource leader at Westfield Group Country Club in Westfield Center, Ohio, and a GCSAA board of directors member, replied to her.
Ahrns contacted the Wee One Foundation, a group whose purpose is to help superintendents with overwhelming expenses because of medical hardship. Upon learning about Kerns, the foundation volunteered to pay nearly $10,000 for the specialized golf cart.
"I received Debbie's online application and it was logical that we needed to look further into Dean's situation," said Wee One Foundation President Rod Johnson, CGCS at Pine Hills CC in Sheboygan, Wis. "Usually our gifts to families are used to pay medical bills but we were excited that we could purchase equipment that will help extend Dean's career."
Kerns wasn't aware he would be receiving the Solo Rider until a surprise ceremony at Arrowhead GC's clubhouse on Masters' Sunday, surrounded by approximately 100 friends and club members.
"I didn't really want to come because I was watching the Masters but my wife said it would be worth my while," Kerns said. "For years I have wanted to plant some trees over here on No. 2, some red buds and she told me the women's golf team was donating money for new trees and I thought 'oh, they got my red buds.'"
Jordan was at the event too as the GCSAA representative and presented a $2,000 check from the association's benevolence fund to Kerns. Troy Martin, president of the Miami Valley Golf Course Superintendents Association and superintendent at Green Country Club in Fairborn, Ohio, announced that the MVGCSA would be donating $1,500 to the Wee One Foundation in Kerns' name.
When Kerns addressed the group gathered in his honor he thanked the members for allowing him to stay for so long and joked, "Now I'm going to have to learn to drive this thing so I don't rip up my own greens."
Who knows how much longer Kerns will be able to work on his course or play golf but one thing is for sure; Kerns loves working on his golf course and you will find him out there for as long as he can.
When Golfdom asked when Kerns would test out his new ride, he thought about it for a second and said, "Well, I got to mow tomorrow. So on Tuesday I think I can give it a try."
Photos: Golfdom Staff