Victim or Victor: What are online tee times doing for your course?
Trying to learn from the hotel industry, golf grapples to make third-party online tee time websites work for them.
They go by many names, are run by companies big and small and reach U.S. golf courses in states from the Atlantic to the Pacific — and they're all accessible via smart phone.
How big a business is selling third-party online tee times? Last year, 13 million rounds were booked via GolfNow alone.
But are these online tee time brokers helping keep golf courses open or are they holding them hostage?
Desperate for marketing
Relationships between golf courses and sites such as GolfNow.com, Supreme Golf, TeeTimes.com, LastMinuteGolfer.com and TeeOff.com are ultimately give and take. Golf courses can gain exposure by being on a website listing and in emails sent to golfers who may have never heard of a course before. The third-party booking agents in turn receive a service fee from golfers to book the round on their website. They are also guaranteed an agreed amount of rounds from the golf course that they can sell at an agreed-upon percentage below a course's rack rate (what GolfNow calls "Hot Deals.")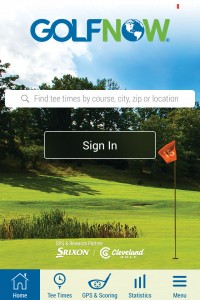 "My mindset was if there is an opportunity to barter and receive services like GolfNow's marketing platform it was worth the trade-off," says Terry O'Leary, director of golf at Southwind Golf Club in Fairburn, Ga. "Indeed it was; over 60 percent of our tee times were being booked through their website."
O'Leary has been with Southwind GC since it opened and when they started its contract with the third-party online booking agent GolfNow, owned by NBC/Universal, in May 2011.
As a new course in the metro Atlanta area during the recession, and with an ownership that didn't understand golf operation or marketing, Southwind GC turned to GolfNow for publicity.
The course's ownership decided to make no initial capital investments in marketing, and its lone campaign during the grand opening was the website. In turn, Southwind GC gave up one tee slot for the "Hot Deals," usually at 11:40 a.m., according to O'Leary.
"We had no sign on the building or out by the road promoting the course, and it was a real challenge with the ownership group we had," O'Leary recalls. "Working with GolfNow was a necessary evil, but over time I started seeing where the marketing started working and they started looking for every nook and cranny to advance their marketing concepts."
GolfNow eventually brought in more hardware, programming and a tablet-based point of sale to the course's pro shop. In return they asked Southwind for another tee time that could be discounted. It was at that time O'Leary says, that he thought GolfNow became very aggressive with the "Hot Deals" on their websites, and that continues today. He believes the price point of a round of golf in metropolitan Atlanta has become so devalued that some clubs are liquidating the bartered tee time.
The fear of losing customers keeps Southwind GC renewing its contract with GolfNow.
"To be able to cater to the wide array of demographics, I feel like you almost have to be a part of GolfNow. The new golfer has a smartphone and is technology savvy," O'Leary says. "Some of those guys don't care. They pack their beer cooler up and go somewhere else and I can't say that I blame them."
Wide-reaching fingers
New golf courses are not the only venues that are attracted to the appeal of bringing in more golfers through third-party online booking agents. Dahlgreen Golf Club, founded in 1969 near the small town of Chaska, Minn., 30 minutes west of the Twin Cities, also saw the appeal.
The club and General Manager Dave Tessman began working with a "mom and pop shop" third-party booking agent to reserve rounds. The company eventually partnered with GolfNow two years ago, and Tessman saw results working with the larger company.
"I think they have wide-reaching fingers. It's a big plus because they got new people to come out to the course," says Tessman.
But with relationships with third-party online booking agents involves a give and a take that Tessman tries to avoid. Dahlgreen does everything it can to stay away from trying to bring in golfers with a deep discount. To play 18 holes with a cart at Dahlgreen is typically $51 per player, but golfers who take advantage of GolfNow's "Hot Deal" can pay as low as $29 per player for the same round.
"I don't necessarily care for third-party tee time websites but they aren't all bad," says Tessman. "We are very careful about discounting our rounds, and whenever our regular customers are the ones finding and using specials we call it 'shooting ourselves in the foot.'"
Duty to the industry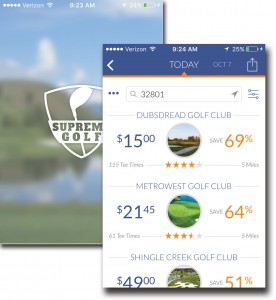 At GolfNow headquarters in Orlando, Fla., Jeff Foster, senior vice president of new media for Golf Channel, explains that he doesn't want any golf course operator to "shoot himself in the foot." As the director of GolfNow, he oversees what he describes as the "largest technology company in golf."
"We believe we are providing a necessary service to the industry. Our mantra is convenience," Foster says. "If we can make things easier for the operator and easier for the golfer, we believe we can grow rounds. We believe we have a duty in this industry to (grow the game.) If we don't grow it, it's not good for any of us."
Foster explains that some courses exchange a daily tee time as a trade for GolfNow's services. Those tee times are sold as "Hot Deals," and the money goes directly to GolfNow, and serves as the only payment the company gets for providing their services to a course. Because money made from the "Hot Deals" goes directly to GolfNow it's in the company's best interest to get as much as they can. They price that tee time based on demand.
"We look and see the tee time they gave me is at 1 p.m. on Thursday, and it's going to be a beautiful day, it's the opening of the season — we're going to try to hold rate as high as we possibly can," he says. "Conversely, if the hurricane is coming and it might start raining, we're going to lower that price."
But the rest of the tee times are priced by the course itself. Foster reminds courses to stick to their own business plans and not let surrounding courses influence rates.
"When there are five courses near me all charging less than me and you decide to go underneath them?" Foster warns, "That's called panic.
"Some operators will pay close attention to what the other operators in a market will do, and they'll find themselves in a price war on what is being charged for this coming Saturday," he says. "You have to be careful. Your strategy can't be what's happening every minute in the marketplace —your strategy has to be based on what your goals are as a company."
Priceline Negotiator
In case you're wondering, the National Golf Course Owners Association has not been silent on best practices for selling tee times on the third-party websites. The association's leadership released a set of 10 guidelines endorsed by the PGA of America in June 2015 (see sidebar at bottom of the page).
"Our viewpoint is these companies exist and are going to exist, and it's important for golf course owners to make their own decisions," says NGCOA CEO Mike Hughes. "But our role is to provide education so they can make informed decisions. That's what we are trying to do with the guidelines."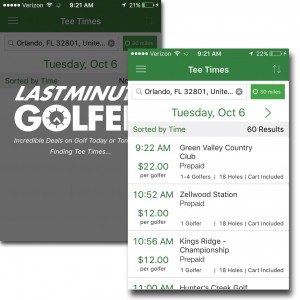 The recently adopted guidelines cover subjects such as payment for reservations, price integrity and what information courses are entitled to collect about their customers.
How did the NGCOA come up with these specific measures? Let's just say they were partially inspired by William Shatner's role as the "Priceline Negotiator."
The association likens golf's situation with third-party websites like GolfNow, TeeTimes.com and TeeOff.com to that faced by the hotel and travel industry with websites like Priceline, Kayak and Hotels.com.
Hughes and the NGCOA believe that golf course owners don't have to guess about how the third-party websites work because this example already exists.
"The idea is to appropriate their best practices and use them in our context," Hughes says. "Virtually all of the guidelines are ones that were faced by hotels and travel industries. The guidelines themselves are a reflection of lessons learned."
A tool for courses
Golf courses can learn from Heritage Ranch Golf & Country Club in Fairview, Texas, too. The semi-private club has a membership that is mainly 55 years and older and will typically play on weekdays from 7 a.m. to 11 a.m. This leaves non-members the weekday afternoons and weekends to play the course.
In August 2014 Heritage Ranch G&CC decided to try GolfNow for one year, and by the following August the course had made $54,000 from GolfNow reservations, according to General Manager Tony Trevino.
Trevino says their results with the site are possible because the majority of reservations made on GolfNow are at their rack rate of $79 and not the $50 "Hot Deals" rate.
"This is not something that is going away and it is great with out-of-towners," says Trevino. "If managed properly it can be a great tool for a golf course."
Back at Southwind GC, the original ownership is gone and the new owner will have been there two years in February. O'Leary says the owner, a former pro, has talked about not renewing their contract with GolfNow this winter and then try to get the course back to a price point that is sustainable for them.
O'Leary agrees the price points have been hurting the long-term success of the club.
"For the sake of golf and the health of golf (third-party sites) are needed, but the cost of operations with fuel, fertility and manpower are on the increase," says O'Leary. "You can't take the greens fees down. We'll eventually lose golf clubs… but Lord knows I'd like to keep my course open."
Golfdom Editor-in-Chief Seth Jones contributed to this story.
---
10 guidelines to a healthy relationship with online tee time agents
In June of this year, the National Golf Course Owners Association released 10 guidelines to help course owners navigate the waters of working with online tee time brokers. Here are the 10 points in abbreviated form — for the complete guide visit NGCOA.org.
Open Marketplace: Owners should negotiate a contract that allows them to work with multiple online agents.
Display Integrity: Online Agents should show accurate tee time availability or user reviews of the course.
Price Integrity: Owners should set and negotiate their own prices, including discount and bottom prices, on tee time inventory. Prices on the online agents, website should be the same as the owner's.
Compensation of Online Agents: Owners should have a mutually agreed upon option to pay online agents including cash, commission, barter tee times or leasing the software.
Marketing: Owners must give online agents written permission to purchase any keywords involved with their course in search engine marketing. A course's tee times and price offerings should be accurate on the online agent's website.
Payments for Reservations: Online agents that receive payment for the reservation should accept it in Payment Card Industry standards and pay the golf course within 30 days of when it was played.
Mobile: Owners should require that their tee times be offered on the online agent's mobile website and apps for IOS and Android. Owners should look to create similar mobile offerings.
Yield Management: To maximize revenue, owners should apply strategic control of inventory to sell it to the right customer at the right time for the optimal price, which may be higher or lower than the standard price offered.
Data: To the extent legally permitted by applicable federal and state privacy laws, owners should receive data that can help owners serve customers and measure return on investment.
Contract: Owners should negotiate terms of a contract with online agents that meet their business objectives. They should understand all terms, including the termination process and potential termination penalties.
Photos: Troy Trevino and  Terry O'leary