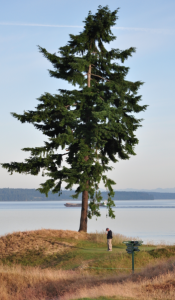 Here is a fun photo taken by a friend… that's me under the "Lone Fir" at Chambers Bay. And yes, I'm tweeting. But that's what I do.
Which reminds me of something I wanted to tell you — if you'd like any of our high-res U.S. Open maintenance photos, we're just an email request away. I started the process of trying to distribute some of the photos today. It's not always the easiest thing to do. Sometimes I'm frustrated by the number of people who don't carry business cards…
The same goes for most photos in the magazine. If we took them and you want them for your personal collection or for your chapter newsletter, just zap us an email with a little lead time… and we'll make it happen.