The 19th Hole: Noah Gessler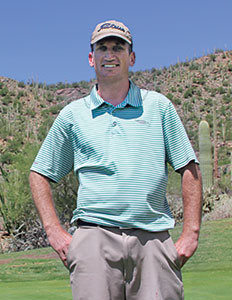 What can I get you?
A cold beer, maybe a Newcastle.
One of my playing partners warned me about a cactus on the course that can literally shoot its needles at you if you get too close. Is that real?
It's kind of a myth. There is a cactus called the Jumping Cholla, but it doesn't shoot anything. What happens is, if it hooks on to you, a whole piece will break off — it grows in segments. That's where the jumping myth comes from.
So you and Mandy have two kids (Brayden, 8 and Madelyn, 4.) Is your son playing sports?
My son is into baseball. We do Little League baseball three or four nights a week. I coach his team.
Coaching can be a big commitment.
I enjoy it. It's a great escape, I love baseball and being with that group of kids. They're open-minded and eager to learn. I enjoy teaching them. I think there are times when the other coaches and I get into it more than the kids do. But the kids give a lot back to us by playing hard.
You're a sports nut… who all do you root for?
I'm a graduate of the University of Arizona, so I'm a die-hard Wildcats fan. I'm also a Diamondbacks fan and an Oakland Raiders fan. Not a lot of good things going for the Raiders lately…
As a Jayhawk and a Chiefs fan, I really hate your teams. Especially the Wildcats! When they beat the Jayhawks in '96, that was one of my most crushing sports defeats ever.
It was '97, actually, the year we beat three No. 1 seeds to win it all. I'm on the flip side because that was one of the best moments I've ever had! I remember that season and those games vividly.
You guys hosted six of the WGC-Accenture Match Play Championships. What was the best part of that experience?
Just being a part of something with that magnitude, and putting your name on it. The neatest moment was this last one. We had a real exciting playoff between Jason Day and Victor Dubuisson. Not knowing if we were going to have to come out and get ready for it for another day… it was memorable. The four inches of snow we got the year before? That's a close second.
As interviewed by Seth Jones, September 30th, 2014.
Photo: Seth Jones