The 19th Hole: Mike Poch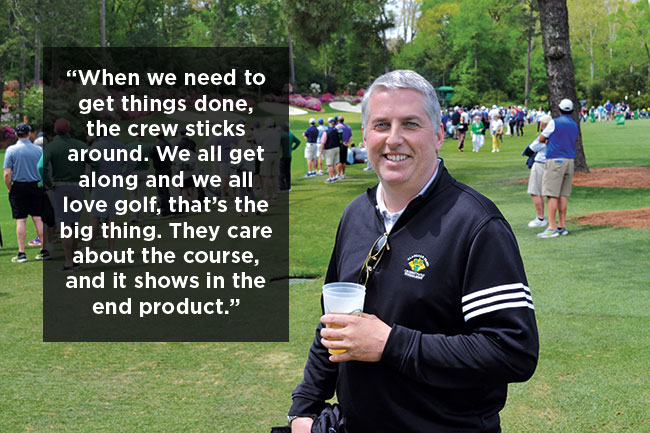 Mike Poch
Superintendent // Foxborough CC, Foxboro, Mass.
What are you drinking? I'm not sure what this is. It's the "import." I think it's a Blue Moon. They gave me an orange.
So, I caught you on your first trip to Augusta. What stands out about the Masters? No cell phones and how people just talk to each other. Like how we just met. You forget about that nowadays, everyone is always looking down.
What teams do you root for? I'm a soccer guy, I like Chelsea. I'm also a Formula One fan. I've been to a few F1 races, one in Monte Carlo, one in Barcelona.
Tell me about Foxborough CC. It's a 1955 Geoffrey Cornish, semi-private. Working class golf club, and they love their golf. It's refreshing because they care about the golf course and they really give back to it.
What's your favorite tool in the shop? Equipment has gotten so much better since I started in the industry. A mini-excavator is probably my favorite. But you can have any tool in the world — unless you have a good crew, any tool in the world is useless. I'm nothing without my crew.
Where's the best place to eat in your area? Wendell's in Norton. They're known throughout New England for their buffalo wings.
How often do you go to Patriots games? Any game day advice? I live right around the corner, so, if someone has an extra ticket, I seem to be the one they call. Get there early, it's so crowded on game days and everyone has their rituals. The whole Patriot Place is cool, it's not only the stadium, it's everything around it… the bars, restaurants, shops, a Bass Pro Shop, even a hospital.
What advice did you get that you still remember? "Never get married!" Something my father said to me a long time ago. As far as the industry, my old boss Bill Spence would say, "Don't overlook the little things." Everyone is after fast greens, but it's the little things.
If you could go back in time, what would you tell the 20-year-old Mike Poch? Don't get in the business! No, the biggest thing I've learned over the years is the golf course will still be there. Take time for yourself. When I was younger, I worked a lot and I missed a lot of family events. I regret that. Now, I travel with a few friends and I love it. The golf course is always there when I get back.
Have you been through the Masters Golf Shop yet? Yeah, I dropped about $500. That was mostly gifts, too. I got a Masters belt for me… with plenty of space to move in it, as I get fatter, it'll last a long time.
As interviewed by Seth Jones, April 4, 2018.
Photo: Seth Jones